About NVR vs Blue Iris, Surveillance systems have become paramount for homeowners seeking to monitor their premises or business owners wanting to secure their workplaces. 
While most individuals can choose a security camera easily, the problem arises when selecting the best platform to manage them. 
Two of the biggest options to consider are the cost-effective NVRs and the feature-rich Blue Iris, each with weaknesses and strengths.
 Now join me as we compare NVR vs Blue Iris to help your set up a reliable surveillance infrastructure.
Table of Contents
What is an NVR?
Network Video Recorder, or NVR, refers to a digital video recorder for storing and managing footage from IP cameras. 
NVRs have become popular in modern surveillance systems due to their ability to transmit videos over a network of computers. 
Apart from being more efficient than DVRs, NVRs are also scalable, thanks to their IP Network compatibility. 
Additionally, they are easy to set up where you connect your IP camera with NVR via USB, Ethernet, or HDMI ports. 
While NVRs are not software-based, some companies like Dahua and Reolink combine hardware and software to provide a comprehensive surveillance solution. 
Moreover, many NVR manufacturers have app UI that you can use to get live streams on your smartphone or PC.
Although NVRs are cost-effective, they have some disadvantages, such as limitations of connected channels with many supporting 4 to 32 ports. 
Most also use PoE wired connections, thus limiting their placement flexibility. 
Another negative is compatibility issues when the manufacturers try to encourage the use of proprietary cameras and apps.
 However, you can go around this compatibility issue using cameras with ONVIF support.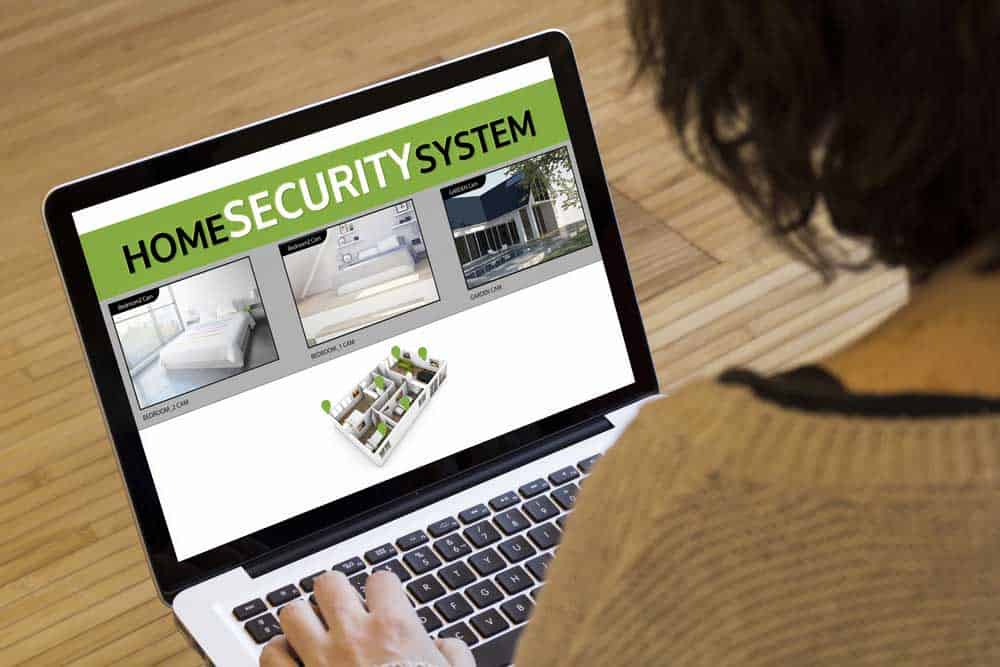 Home security system
What is Blue Iris?
Blue Iris is a popular VMS service used by organizations and individuals to record and monitor their surveillance systems. 
The system offers an excellent user interface and several high-end features making it handle multiple windows without quality degradation.
 It supports several types of cameras, including PoE, Webcams, USB cameras, and IP cameras. 
The VMS also works with popular doorbells such as Dahua, Hikvision, and Amcrest. 
Some of its advanced features include FOV configurations, motion detection, audio sensing and recording, and event alerts.
However, the service is costly with its base plan retailing, which supports one camera retailing at $30. 
Its premium plan is limited to only 64 cameras and costs around $70.  In addition to the license cost, you will also need a powerful computer and occasional maintenance. 
The system is not easy to set up, and you may need a technician for proper installation.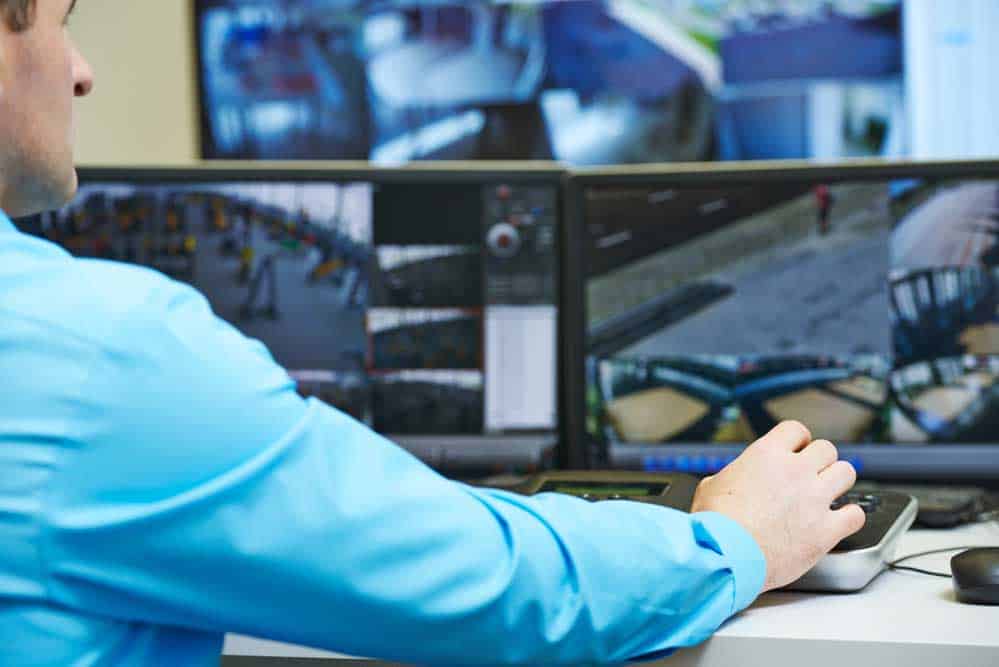 Monitoring camera footage
NVR vs Blue Iris Comparison
Now that you know what NVR and Blue Iris are, let's compare them to know the VMS that suits you best.
Compatibility and Setup
Although you can live stream, control, and view recording on the Blue Iris app, its mobile usability is limited. 
The system generally works on Windows PC with a powerful processor. Blue Iris also works with almost all types of cameras that support ONVIF. 
These cameras include IP, USB, WebCams, and PoE cameras, in addition to streaming via Web UIs.
 For example, the system integrates perfectly with Wyze cameras because they support RTSP. 
For NVRs, a PC or an operating system is not necessary since they come with customized UI. Some also provide a dedicated PC or Mobile app for camera control and video viewing.
 Unlike Blue Iris, most NVRs support only PoE cameras, with some limited to only the same manufacturer. 
However, recently some brands have started to work with PoE cameras from different manufacturers.
 Additionally, you may get NVRs that support ONVIF to ensure they work with several camera brands and types.
Setup
Blue Iris offers a customer-friendly UI with quick-access tiles and a drop-down menu that you can use to configure your cameras. 
However, the setting up may be time-consuming and require a technician, especially when dealing with IP cameras. Conversely, the NVRs setup process is straightforward.
 Connect the ethernet cable to the camera and plug the other end into the PoE switch.
Therefore, if you intend to use various types of cameras, Blue Iris is your best bet, but if you see a hassle-free installation, go for the NVRs.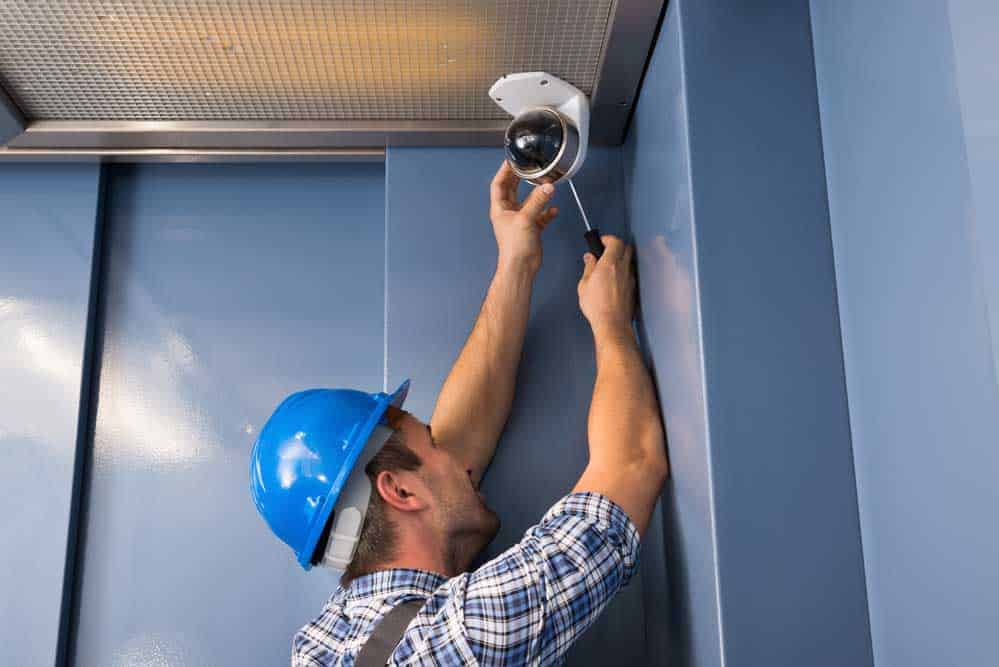 Surveillance camera installation
Video Reception and Recording Characteristics
Blue Iris boasts superior video handling and recording features so long as your PC is quality. 
With the system, you get buffer-free live streams and superior recording playbacks on most occasions. 
Additionally, it features a DirectX feature that brings digital scaling accuracy to your recording and live streams. 
In contrast, NVRs also come with high-quality recordings and smooth live streams. 
They also allow a real-time view of live streams when you connect your camera through an HDMI port. 
However, you may have issues depending on the proprietary software that the manufacturer use. 
Generally, both surveillance systems excel in video reception and recording, supporting 8MP sensor and 4K recorder resolution. 
But note that the quality of your recording or reception may also depend on the camera you use in both systems.
Features On-Board
Undoubtedly, Blue Iris trumps NVR in this department, hence the huge price. 
Blue Iris has features such as home automation, schedule and routine creation, and intricate camera controls. 
Its alert mechanism is so sophisticated that when the camera detects an event, you get alerts via five modes.
 In addition to usual alerts, the system provides disturbance notifications of voice calls, messages, and even social media notifications. 
More so, Blue Iris comes with DeepStack AI capabilities that distinguish objects ifo advanced motion detection features.
In contrast, the features of an NVR are pretty basic and not as advanced as Blue Iris. 
While NVRs have apps and email notifications, they fail when it comes to intricate alert mechanisms.
 Also, their motion detection is not so excellent, with occasional fake alerts, since it relies on connected camera capabilities.
Price and Cost of Operation
Without considering surveillance camera costs, you must spend over $500 to set up an efficient Blue Iris system. 
The Blue Iris company recommends a computer with an Intel Core i7 6th Gen processor and 8GB+ RAM, running on Windows 10. 
To get such a PC, you must cough around $300 or about $200 for a used one. The price can rise to $400+ if you factor in a powerful graphic card and other peripherals. 
In addition to the PC price, you will pay a Blue Iris license fee of $30 for the basic plan and $70 for the premium one. 
You will also have to pay an annual subscription fee which ranges between $20 to $70, depending on your chosen plan.
 Additionally, if you want the mobile version of the service, you will part with an extra $10.
In contrast, NVRs cost way less than the basic Blue Iris plans. 
For example, you can get Riolink and Dahau NVRs for about $299 and less than that for some other companies. 
You may also get price offers from some manufacturers, while others include free peripherals such as apps and required cables. 
Therefore, if price is your consideration, NVRs would be the best option.
How Do I Choose an NVR?
Whether you seek an NVR for your home or business, price, ease of use, and available features are the first considerations. 
Then consider other factors such as camera compatibility, storage solutions, number of channels, scalability, and remote access.
Can I Use My PC as NVR?
Yes, you can install specialized software and set up your PC as an NVR to manage and monitor your surveillance system. 
While this method can be cost-effective and flexible, it requires considerations such as power consumption, hardware requirements, and storage availability.
Conclusion
As we saw earlier, the surveillance system you choose depends on your budget and the feature you seek.
 For example, if you are a large company that requires several types of cameras and sophisticated features, the Blue Iris is Ideal. 
On the other hand, if you require a system that is easy to set up while on a budget, NVR would suit you best.