About Starlink Business Internet, Starlink is becoming a revolutionary internet service provider. In addition to serving people in remote areas, it has a high speed.
It has many types, but you can choose the best one depending on your need and specifications.
Today we will dwell on the Starlink Business plan. We can confidently recommend the plan. But first, what benefits, features, and qualities does it possess?
Let us find out!
Table of Contents
What is Starlink Business?
A Starlink business is one of Starlink's designed internet packages suitable for enterprise applications and commercial purposes.
The plan ensures simultaneous internet delivery to many devices and access to admin-grade features, which are absent in Starlink Residential.
Its hardware also differs from the Residential plan in that it has a larger antenna for accommodating more workload.
The features include Publicly Routable DHCP and supporting key operations like VoIP calls.
Features of Starlink Business Plan
Knowing the features of different internet services helps you make an informed long-term decision.
Starlonk's business plan offers a range of beneficial features making it outstanding compared to other broadband services and conventional satellite internet providers.
They include:
Autonomous satellite network
The Starlink business plan is self-sustaining. It means the satellite system can make positional adjustments in the orbit without human mediation.
Moreover, satellites can transmit seamless internet services.
Decreased latency
Latency means the interval required for data transmission from one internet point to another.
Usually, standard satellite internets have high latency because the data has to travel a long distance between Earth and satellites in orbit.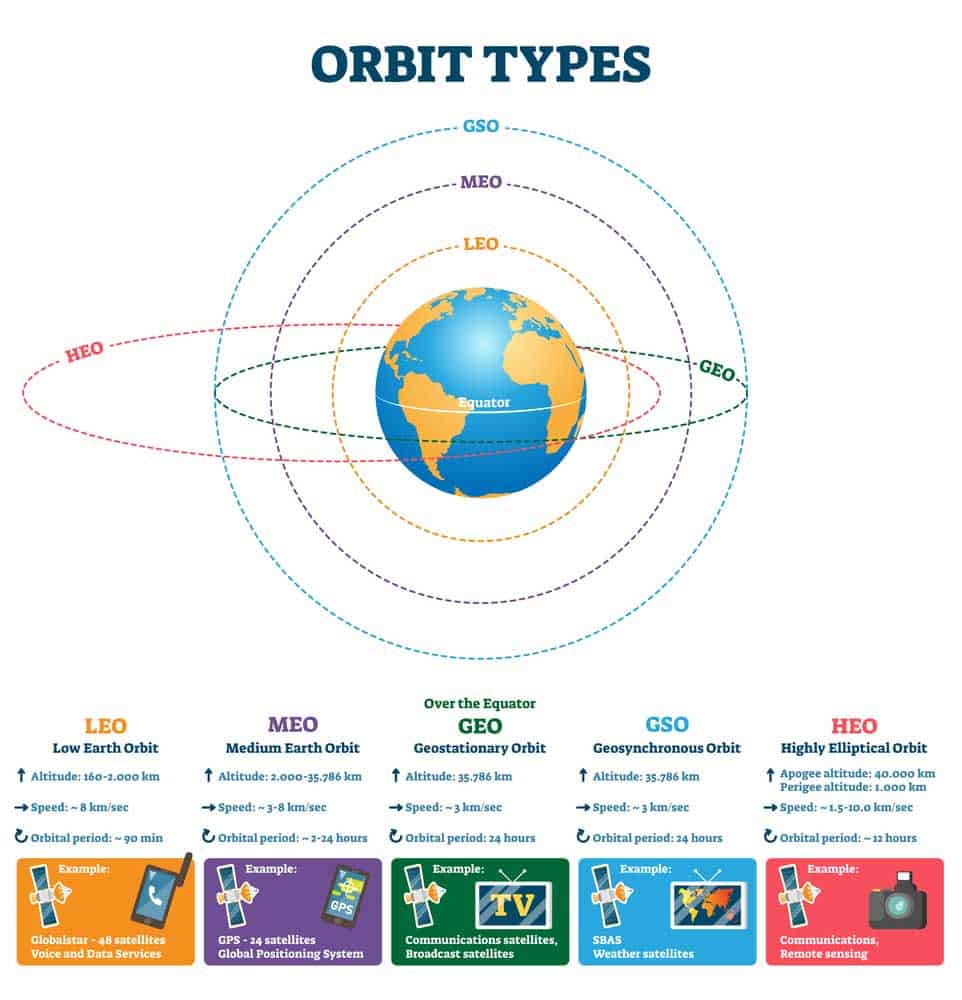 (Illustration of the orbit types)
Fortunately, Starlink business internet has its satellites placed in low Earth orbit. Data transfer will be efficient and faster.
Thanks to the low latency, real-time applications like gaming and conferencing will be highly advantaged.
The latency ranges from 25 to 50 ms.
Worldwide coverage
A Starlink business plan has international coverage, including remote regions on the globe.
As a result, users with low-speed internet from the traditional ISPs can switch to it and reap its coverage benefits.
Installation/Set-up process
Installing a Starlink business system is inarguably simple. Once you order through the company's website, you'll receive the package at your cited address.
The order has a mounting tripod, power supply, Wi-Fi router, and a Starlink dish.
To set up the equipment, you'll only need to follow the instructions outlined by the company.
For instance, you should place the Starlink dish in a zone likely to have strong signals from a Starlink satellite. The dish should also be in a clear view.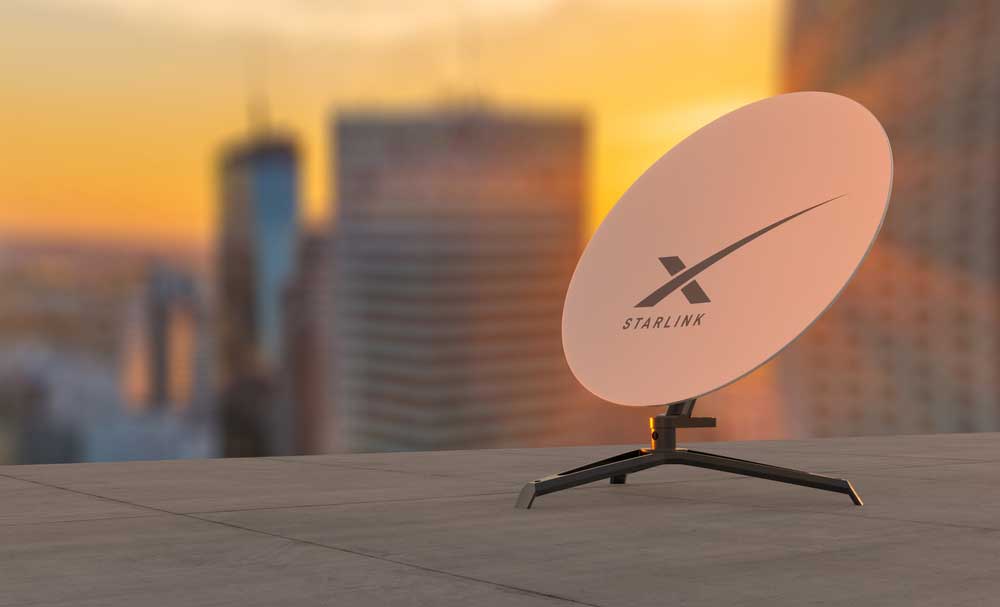 (Starlink satellite internet dish in a clear sky view)
After the installation, you can connect the Starlink internet via your Wi-Fi router.
Pricing/Cost
Compared to traditional service providers, a Starlink business plan is a bit expensive in the initial buying. However, the cost directly translates to its quality, and you won't regret purchasing it.
The monthly service subscription fee is $99, while the initial one-time equipment amount is $499.
The one-time fee caters to a mounting tripod, power supply, Wi-Fi router, and a Starlink dish.
The pieces of equipment are vital components when setting up the Starlink system.
The monthly fee ensures consistent customer support, unlimited data, and high-speed internet services.
High-speed internet
Lastly, a Starlink business plan provides high-speed internet owing to manufacturers specifically designing the satellites for heightened speed.
In this way, it can provide internet to underserved and remote areas unreachable by traditional internet providers.
The speeds are between 8-25 Mbps for uploads and 40-220 Mbps for downloads.
Starlink Business Kit: What you get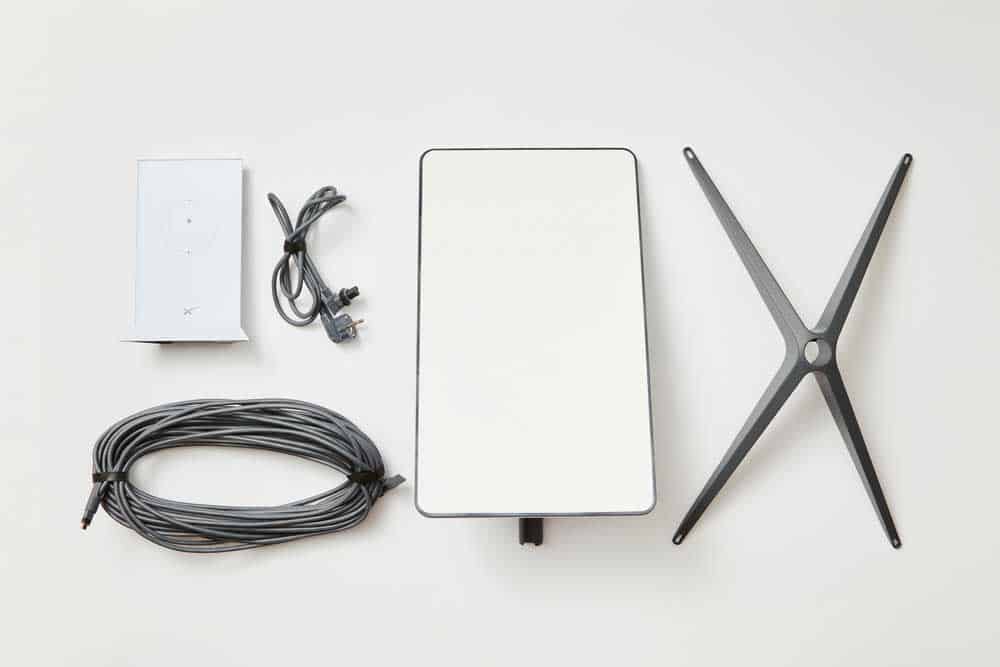 (Components of a Starlink Business Kit)
The Starlink kit comprises the following equipment for installation:
Starlink High-Performance Dish
The dish is an upgraded model of the Starlink Rectangular dish. Additionally, it has Electronically Phased Array antennas that provide better speed and performance than other dishes.
It is also physically large and can link to other Starlink satellite constellations.
Finally, it has a durable design that can withstand harsh environmental conditions. 
Note: Often, Starlink residential users employ a Starlink rectangular dish. However, if it becomes ineffective for them, they can switch to the High-performance dish.
The Base for the Starlink High-Performance Dish
The specifications include the following,
12.2cm (4.8") as the height of the base legs.
56cm x 56cm (22" x 22") as the dimension for the face of the base.
Power Supply
The specifications for the power supply rating of a Starlink business dish include the following:
An available dedicated earth terminal for the grounding capabilities.
Power specifications: 4.5A, 50-60 Hz, and 100-240V.
Power supply unit weight: 1.5kgs/3 lbs
Power supply unit dimensions: 28.8cm x  13.3cm x 4.6cm (11.3" x 5.2" x 1.8")
Starlink Router
Starlink uses UTR 211 routers to transmit internet to available devices in all its plans, Starlink business included.
The specifications are as follows:
It has a maximum coverage of 185m2/2000 ft.
Its security is WPA2.
It is compatible with about 128 devices.
It has up to twelve Starlink nodes for Mesh compatibility.
Then, it has a dual-band ratio and a 3×3 MIMO.
It utilizes 802.11ac technology and WiFi-5 for its standard generation.
Its operating temperatures range between -30oC to 50oC, whereas its weight is 1kg/2.2lbs
Lastly, it has a dimension of 25.4cm x 18cm x 6.5cm.
Cable for Connectivity
Some of the cables you will find in the kit are:
AC cable for the router (1.8m/6 ft in length)
AC cable for power supply (1.8m/6 ft in length)
Router cable (2m/6.5 ft in length)
Ethernet cable (5m/16.5 ft in length)
Starlink cable (25m/82 ft in length)
How to Obtain a Starlink Business Plan?
The Starlink business plan services will serve people globally (including rural and remote areas) with high-speed internet independently from any traditional terrestrial infrastructure.
Therefore, to access this 'gold,' follow the process below.
Browse Starlink's web page: The website has the particulars on Starlink services, such as pricing plans and coverage areas.
Reach out to the Customer care team: The contact team is usually an email or call away if you need extra information or have a burning question about the plan. They will guide you on the options available and assist you in choosing a plan that suits your business requirements.
Seek advice from a Starlink reseller: Resellers collaborate with Starlink worldwide. Often, they give guidance and support to buyers interested in Starlink services. Speaking to provide technical support and installation.
Associate with other users: Since several businesses and people universally use services offered by Starlink, you can reach out to a few and interact with them. In the process, you may comprehend more about the available plans and discover how their experiences were/are when using Starlink.
Conclusion
In summary, a Starlink Business plan is an internet service specific to business owners since it sustains many connections. 
We still do have more interesting information on Starlink. If interested, you can check the articles out on our website.