If you're eager to know the difference between Starlink and RV, you're in the right place!
Starlink's internet plans have the best of both worlds as they offer plausible solutions for users at home and those on the move.
In this comprehensive guide, we've compiled all the information you need about Starlink residential and RV. 
Table of Contents
Differences Between Starlink and Starlink RV
Several differences emerge when you compare Starlink's Residential and RV packages.
Let's look at them in the next few scrolls. 
Hardware
Starlink Residential needs a few components- router, dish, and modem.
The average cost of their website is $599.
If you want Starlink RV, the total cost is cheaper since it does not need a stationary satellite dish. It only requires a router and modem, which costs about $200. 
Monthly Costs
Starlink runs a monthly fee of $90 to $120, depending on the capacity area.
You'll have to pay $90 if you're considered to be in an excess capacity area (basically a populated area with more subs).
Interestingly, it is about $120 monthly if you subscribe from an area with fewer clients. 
So, depending on your location, the monthly prices will fall in either of the two.
The new RV plan phased out Starlink's Portability feature, where clients had to pay an extra $20 monthly.  
Starlink for RV costs about $150 per month, and clients can pause the plan when they want.
The RV plan is still working on a "best effort" service and has the usual hiccups in congested zones. 
Speed Comparison
Starlink and Starlink RV provide decent internet speeds but are nowhere close to each other.
Typically, Starlink residential has top priority in internet access as it has many clients.
Starlink RV is not fast in urban areas or areas where Starlink Residential is common. 
That said, Starlink is faster than Starlink RV due to priority access.
The average speed on peak hours for Starlink Residential is 20-100 Mbps.
While Starlink RV peaks at 50 Mbps, speeds may go as low as 5 Mbps in congested places. 
Data Caps
So far, Starlink is the only satellite internet provider with no data caps on both plans.
Priority access users have a whopping 1 TB during peak hours, and the basic access clients get an unlimited 250 GB a month.
So, if you were to exhaust the 250GB before the end of the month, your internet may be slower during congestion hours.
Starlink is working on a way for everyone to enjoy the same internet speeds, no matter their data usage. 
Availability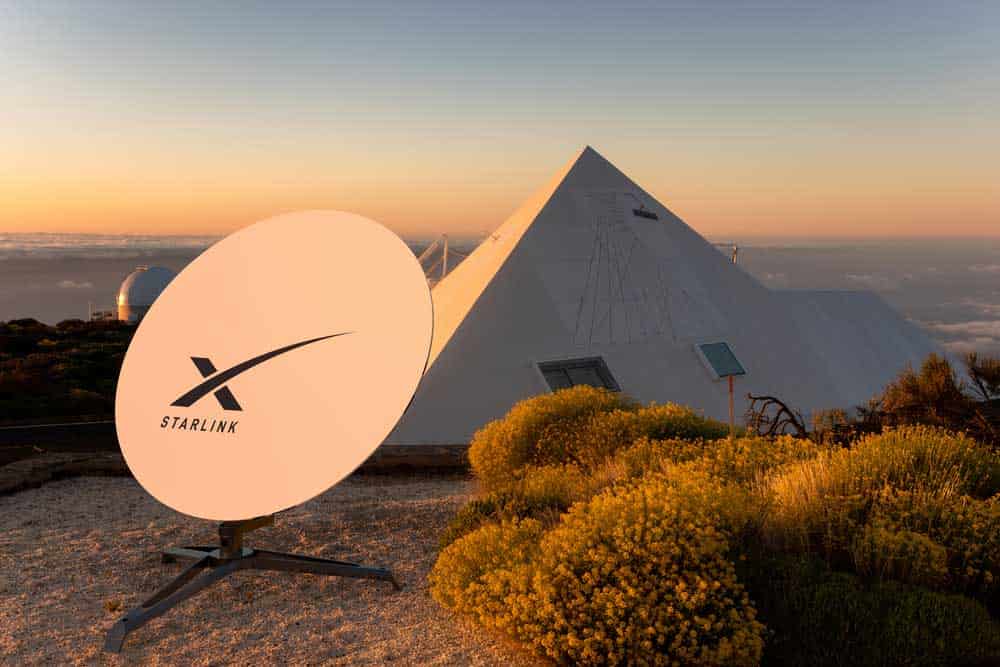 Satellite dish internet Starlink. 
The Starlink Standard and RV versions are available across the United States and the world.
You can order through the official Starlink website and wait for confirmation.
Starlink is available for purchase and ships automatically if you choose the RV package.
Starlink Residential is more popular- any order gets you in the queue for a long waiting list.  
Installation
Both Starlink systems are fairly easy to install. Starlink Residential has a dish, router, and connecting wires.
It is more complex to install as you must find a raised surface with zero obstructions.
The RV plan is a bit easier, and it takes less time to install with no dish. 
Nevertheless, we vouch for professional installations, as you may need other Starlink accessories.
Installing the Standard Starlink system costs $800, while the RV version is about $200.
If you don't use Starlink for long, seeking professional installations may be expensive. 
Pausing, Cancellation Contracts, and Transfers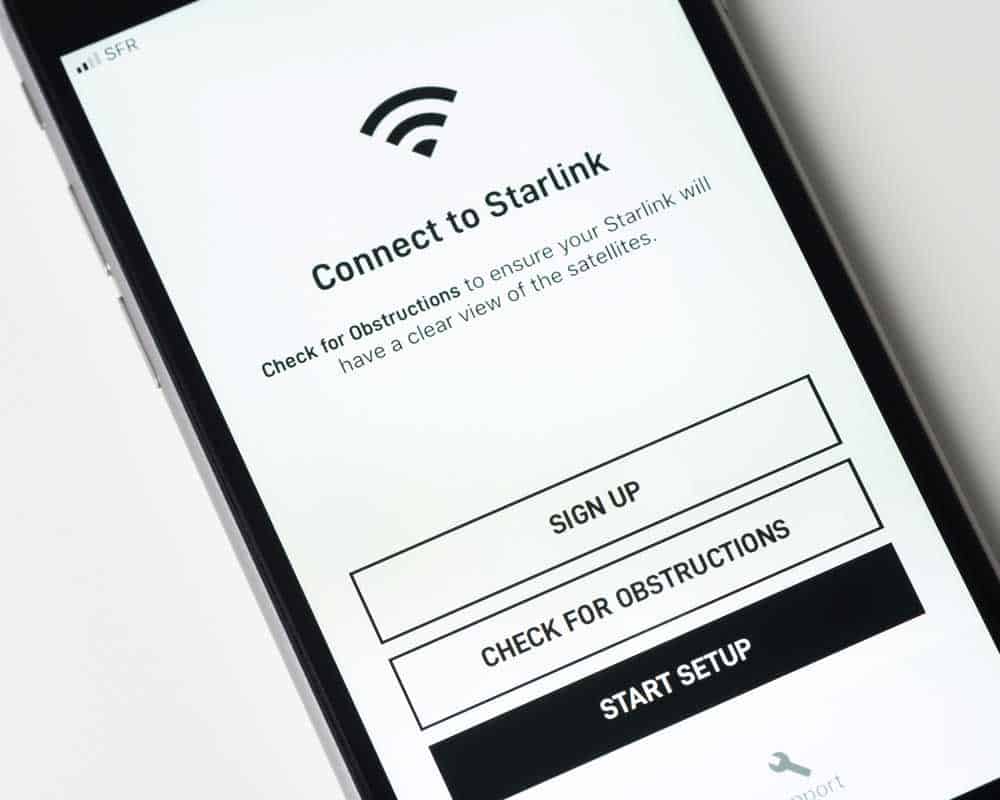 Starlink app on Apple iPhone screen.
Starlink RV members can cancel their subscriptions at any time, perhaps because it is a temporary plan and likely not your primary internet service.
It is geared towards travelers, international organizations, and anyone in a remote place without WiFi.
The company charges for the whole billing cycle. So, canceling a mid-subscription does not guarantee your money back. 
If you ever feel dissatisfied and want to opt-out, Starlink has an easy way to do this.
Simply log in to your Starlink account and click "Cancel Service." You can return the hardware along with your cancellation. 
The tech company offers a refund of up to $200 for items returned within 30 days of shipping.
However, you will not receive any partial refunds for subscriptions as the internet will remain active until the end of the billing cycle. 
Pros and Cons of Starlink and Starlink RV
Starlink systems have their share of benefits and hindrances, which we'll look at below. 
The Starlink
Starlink is an immersive satellite-based internet service aimed at connecting people from all over the world.
It has unmetered internet with low latency levels, capable of handling speeds up to 1 Gps.
Starlink's constellations allow the company to connect the most remote areas with decent internet. 
Advantages:
Lightning-fast internet services 
Seamless setup process
Does not need too many wires 
Available in remote areas
Disadvantages:
Costly installation fees
Affected by extreme weather 
Not accessible in all countries 
Poor coverage in some zones 
Starlink RV
As the name suggests, Starlink RV provides internet to remote vehicles.
The system is set up inside a vehicle you can access while moving.
Though it can peak up to 100 Mbps, Starlink admits there may be a few latency gaps as you move.
The Starlink RV still seems reliable, as you can connect from anywhere in the world.
Starlink RV is fairly easy to set up and cheaper should you hire a professional. 
Advantages:
Unmetered Internet on vehicles
Quick setup process 
Cheaper than other services 
Disadvantages:
Limited coverage 
Slightly expensive installation fees
Not yet accessible in all countries 
Starlink vs. Starlink RV: Which One is Better?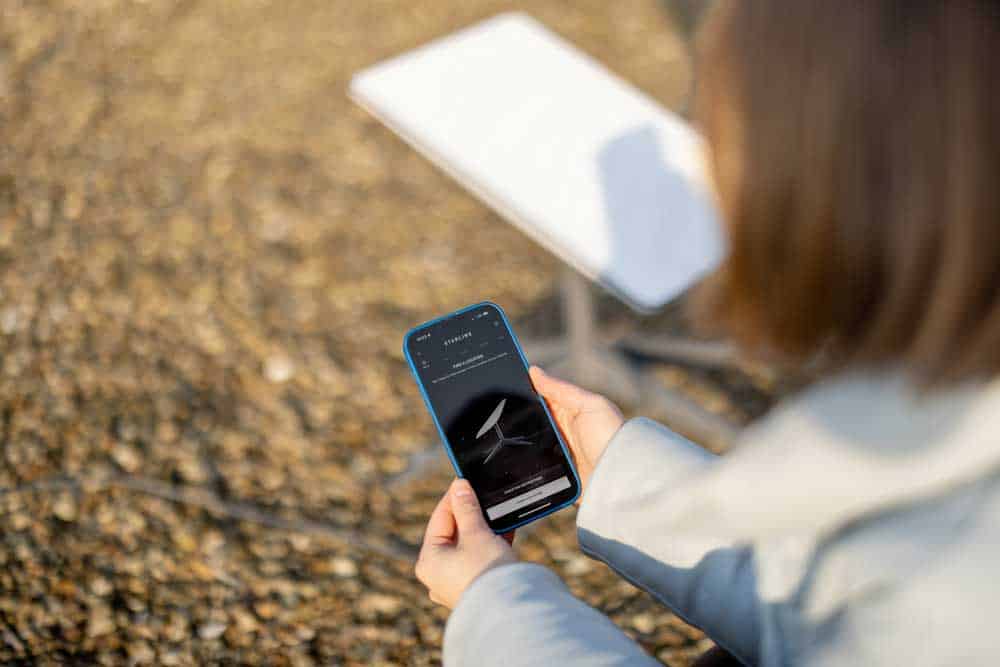 The woman holds a phone with running the Starlink application.
The satellite internet is the new future, a revolutionary way to connect and communicate in our day-to-day activities.
Unlike most comparisons, we feel choosing between the two Starlink systems is easy.
The tech company did a great job finding pain points for its customers, and each piece of hardware serves a specific purpose. 
The Starlink Residential service is excellent for anyone to uses fast internet at home or the office.
This plan cushions you during peak hours and congestion as it prioritizes its subscribers over the RV.
You can be sure to hold conferences and meetings without worry. 
On the flip, Starlinks RV is one of the few internet service options available for moving vehicles.
It provides internet access on the go. The service is ideal if you want to go to another country or remote location and need reliable access to the internet. 
It is virtually impossible to pick out between the two Starlink services.
Each has been designed to meet specific needs, and the performance will rely on several factors.
For instance, Starlink RV works well in remote areas like desserts but won't give you the same internet speed to browse heavily. 
Conclusion
We hope this guide has shed some light between Starlink and Starlink RV. Starlink Residential is an absolute no-brainer if you plan to use their services all year.
The RV plan leans more towards seasonal users. Starlink is constantly changing its ways as a budding tech company, and you should check out the official website for any updates.