About Web Browser for Roku 2023, Roku brands like Roku TV and Roku Box allow you to stream content from services like HBO Max, Netflix, and others. 
However, streaming alone is not enough, as many individuals seek to broaden the capabilities of their Roku system beyond streaming. 
Here's where a browser comes in handy to facilitate information sharing, expand your Roku entertainment versatility, and connect with others.
 In the article, web browser for Roku 2023, we discuss options to help unlock your Roku device's internet browsing capabilities
Table of Contents
Does Roku Have a Web Browser?
According to my research, Roku does not come with an in-built web browser, despite its ability to use the functionality. 
Their website shows that the company's device is solely for streaming and not browsing. Some years back, it had a few browsers, but it recently eliminated them. 
Roku also prevents developers from adding any web browser to their library due to security and privacy concerns. 
However, you can use apps like Youtube for dedicated browsing, mirroring, and casting technology. 
Now stick with me as I show you how to do that in the next discussion. 
How to Get a Web Browser on Roku
As mentioned above, Roku discontinued all the browsers in their library to ensure you use the device solely for streaming. 
However, there are several workarounds to this problem, as I describe below: 
Smartphone App and Receiver
Using a smartphone app to browse the internet on Roku is the most effective method compared to inbuilt web browsers. 
First, you can type using your phone instead or remote and cast various aspects of your phone, including photos. 
Additionally, it allows smooth casting and seamless navigation without lags or buffering issues. 
The method is available for Android and iPhone, and you can use the following steps to get it.
Visit the Google play store or the Apple Store and look for Web Video Cast
Download the app and wait for it to install on your device
Now launch the app and use it as you would with any other browser
Then identify and click the cast icon on the browser near the top of your phone screen
Select your Roku TV to cast the browser and enjoy seamless browsing. 
Roku on smartphone
Cast for Computers
Another method to get a web browser on your Roku device is to cast your browser using a laptop or a computer. 
This technique works for Windows and Mac PCs, but your device must have a Chrome browser. 
Additionally, ensure your Roku device and laptop share the same WiFi network. 
If your setup fulfills the above conditions, then follow the steps below:
Open the Google Chrome browser on your PC
Once fully launched, click the three vertical dots on the top right of your Chrome browser.
Locate and click the cast function on the resulting menu
Wait for your Roku device to appear, click it to connect, and you are done.
Mirror from Windows PC
An alternative method for having a web browser on your Roku is the MiraCast function which appears on Windows PC. 
While this method may lag, it is useful when you do not want to use your smartphone. 
Additionally, it is a working and free method if you do not have a Chrome browser on your computer. 
To use the technique, follow the procedure below:
Ensure your Windows computer is on the same WiFi network as your Roku
Visit your Roku device settings, then system settings, and change screen mirroring to 'always on.'
Now, open your favorite browser on your Windows to ensure it is on display
The next step is to click notifications at the bottom right corner of the taskbar. 
Then select 'Connect to a wireless display' to cast your Windows screen on your Roku
Other Methods
Apart from the above methods, you can also use other mirroring apps available on both Google and Apple app stores.
 You can also opt to use older versions of Roku that support third-party web browsing apps. 
Additionally, you may use an HDMI cable to connect your PC or smartphone to your Roku device. 
The HDMI method may be the best since it facilitates browsing and viewing content on a large screen. 
Lastly, you can also buy mirroring devices such as Airserve, which works as a projector for screen casting.
HDMI cable
What is the Best Web Browser for Roku
As we mentioned earlier, Roku previously allowed free and premium browsers which you could use seamlessly with your remote.
 It later scrapped, this function disabling its best browsers such as Poprim and Web Browser X. 
Now that browsing on Roku you've to use casting, we have come up with the 7 best web browsers for Roku.
Web Video Cast
If you are an Android or iOS user, you may fancy the Web Video Cast as a web browser to use with your Roku. 
It features casting and browsing capabilities that allows you to browse the internet and stream online content.
 It also lets you cast content stored on cloud storage or locally on your device. 
You can easily get the app on the Google or Apple app store, which is compatible with several Roku devices. 
What impressed me more about this browser is the video queuing capabilities that allow you to play media nonstop. 
However, it comes with a one-time fee of $5, a small price considering its ease of use and smooth streaming capabilities.
Opera
Opera is a lightweight, free browser that works with various operating systems, such as Android and Windows. 
It also features a fast loading speed allowing you to view any page online, including videos and music sites. 
You just need to install it on your device and then use the mirroring technique above to connect it to your Roku.
 Moreover, the browser has a free VPN that allows you to browse anonymously. 
Opera browser on PC
Firefox
Firefox is a popular web browser compatible with Windows, Android, iOS, and other operating systems. 
This compatibility feature ensures you can use it on PC, tablet, smartphone, and other devices. 
Like Opera, you must install it on your device and then use the mirroring technic to link it to your Roku.
 What I like about this browser is that it is also fast, with various privacy features, and supports most online content.
 It is also free, supports private browsing, is highly customizable, with in-built ad blockers, and does not take up huge storage.
Google Chrome
If you are looking for a free and fast-loading browser, Google Chrome would be your first bet. 
The web browser features a simple-to-use interface and numerous functionality, making it the most popular.
 It works on Windows, Mac, Android, and other operating systems meaning you can use it even on your phone and laptop. 
Moreover, it has detailed security features and high-end functionality that allows you to browse and stream content. 
To use Chrome on your Roku, I recommend either mirroring or using its Chrome cast functionality. 
However, it takes up huge internal storage and may take time to download and install.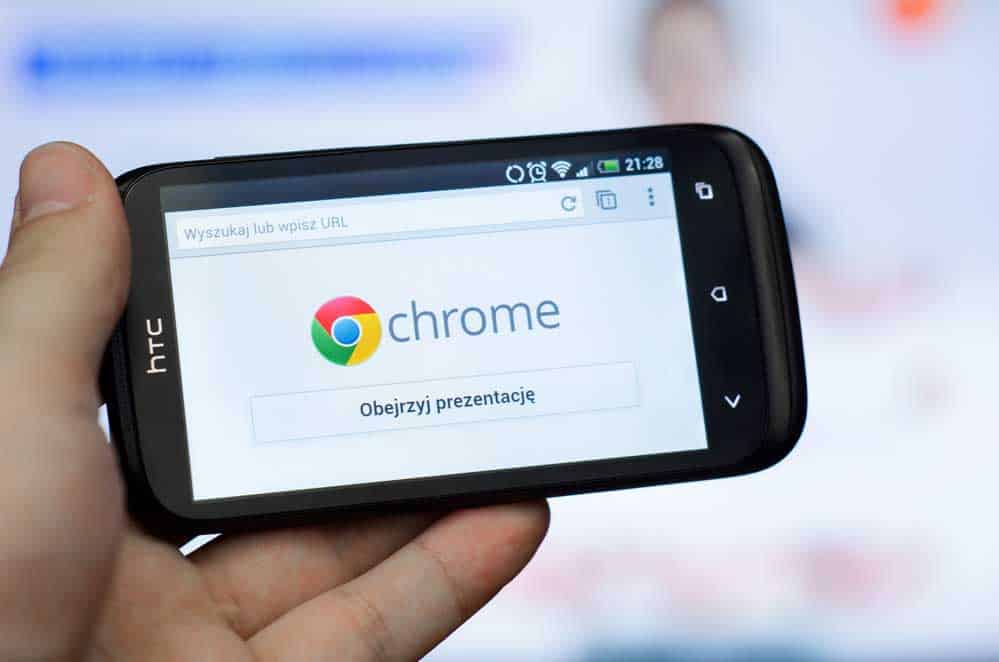 Using Google Chrome on a phone
FilmRise
Unlike other browsers, FilmRise does not allow web browsing using Google or Bing search engines. 
Instead, it lets you browse TV shows, videos, films, and other media sources.
 With this browser, you can find thousands of movies and TV shows which are legal and free. 
The browse also features a simple-to-use interface with movie categories such as crime, romance, horror, drama, and others. 
You just need to find this web browser on your Roku library, install it, and use it.
Xfinity
For those looking to stream live sports, local news, and other channels, I would recommend the Xfinity browser.
 It also allows you to add fun to your entertainment by browsing music, videos, films, and other interesting content.
 You can use this browser on any Roku device; you just need to download it from the library. 
The only negative about the web browser is that it is premium with a subscription fee of $55 per year. 
Additionally, it can not browse the web the same way other browsers like Opera and Google Chrome can.
The Roku Channel
As the name suggests, this channel allows you to browse apps, videos, and other content on your Roku device. 
This channel allows you to browse free and paid content, including TV series and videos. 
All you need to do is download this browser for free from the Roku channel library and enjoy high-quality content. 
What I love about this web browser is that it is original from Roku and updates regularly to ensure safe content. 
On the downside, it cannot browse the internet, and its free content may be restricted in some areas.
What are the Disadvantages of Internet Browsing on Roku?
While browsing the Internet on Roku can add an entertainment dimension to your system, it has some negatives below:
Using a web browser on Roku limits how you can use the internet. For instance, you can't download videos or apps or upload content online.
You may also not get the full browsing experience. For example, when using Web Browser X, you can't be able to fill out forms.
Lastly, you may experience lags, delays, and buffering, which can take the fun off the internet encounter.
How to Troubleshoot When Mirroring
Sometimes you may experience difficulties casting or mirroring a browser to your Roku device. When this happens, follow the below troubleshooting solution.
Reboot your router by restarting your internet connection. Here, you switch off the router and wait 30 seconds before switching it back on.
Consider rebooting your Roku device by switching it off and then back on after letting it sit idle for 30 seconds.
Finally, connect the devices using your preferred mirroring technique and see if the problem is gone.
If you still encounter the problem, consider logging out of your Roku account and logging in again before retrying.
Rebooting a router
Conclusion
While no in-built browser exists for Roku, you can still use the methods discussed above to browse the internet. 
You just need to choose your preferred browser from the list above and then connect your device to Roku TV and enjoy.