What Is the Difference Between Starlink and Starlink Premium?
Understanding the subscription plans offered by Starlink can sometimes be challenging for interested customers.
You are in the right place if you are one of those individuals. Below, I drafted a simple guide to help you learn the difference between Starlink and Starlink premium.
As a Starlink user, I bet you already know that SpaceX rolled out a new premium and more powerful tier of its Starlink satellite internet service.
The new service targets businesses and the highest-demand users. Continue reading to learn more. 
Table of Contents
What Is Starlink Business?
SpaceX satellite constellation internet service provides two tiers; Starlink and Starlink Business. Starlink Business is the high-performance tier for SpaceX's satellite internet service.
It is for business owners and enterprises requiring satellite internet connectivity for multiple devices.
In February 2022, SpaceX established Starlink Premium to deliver to government offices and commercial customers.
Later on, SpaceX renamed Starlink Premium in March 2022 with a more fitting title—Starlink Business.
A unique selling point of the Starlink Business plan is its new high-performance terminal.
It delivers higher speeds, bandwidth, and throughput. Starlink Business can also access Publicly Routable DHCP and promises priority 24/7 customer support.
What Is the Difference Between Starlink and Starlink Premium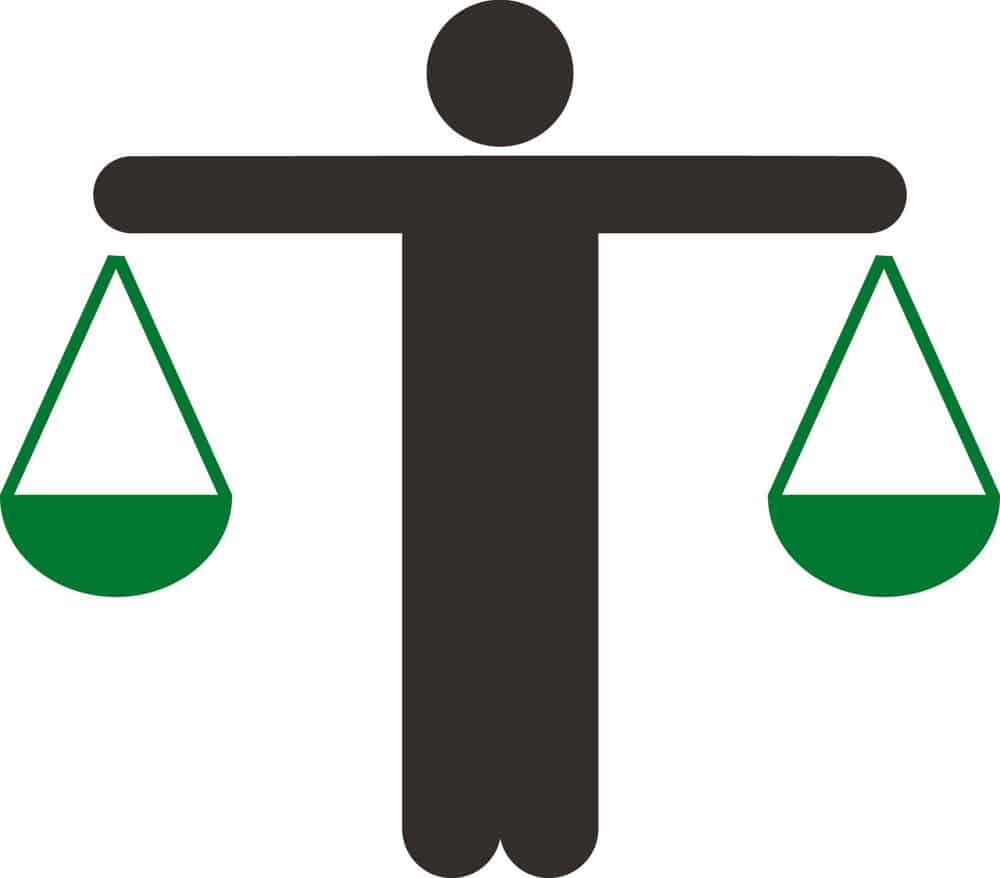 Lawyer icon illustration
Now that we know what Starlink Business is, let's look at its main differences from the standard Starlink.
Design
The Starlink Residential and Starlink Business Kit includes everything you need to connect to the internet.
You will get a Wi-Fi router base unit, Starlink dish, power supply, dish mount, and cables.
However, Starlink Business's antenna design differs from Residential's.
The antenna setup in the Business kit is bigger and stronger, with an upgraded Wi-Fi router, base unit, and power supply.
All these qualities make it best fitted to resist adverse temperatures and weather conditions.
Speeds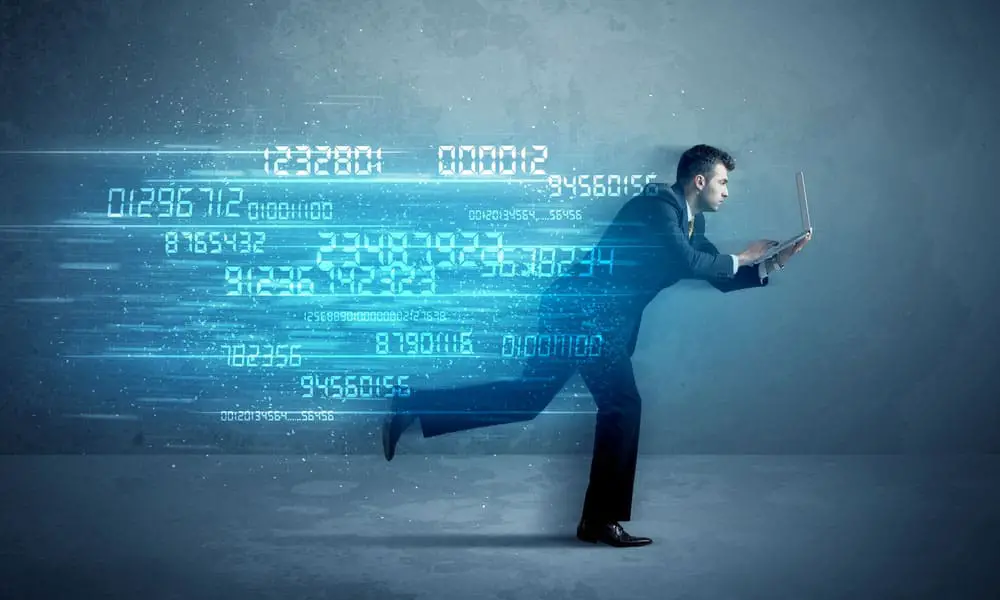 Data concept
Starlink Residential and Starlink Business offer more than 99% service availability, no data caps, and 20–40 ms latency. However, these plans differ in upload and download speeds.
With Starlink Residential, expect upload speeds of 10–40 Mbps and download speeds of about 50–200 Mbps. This Starlink Internet plan is ideal for family and home use only.
Starlink Business roughly doubles those speeds with a more consistent service.
This plan has an upload speed of 20–40 Mbps and a download speed of 100-500Mbps.
It can therefore handle the massive load while practicing better speed reduction during peak hours.
With Starlink Residential, the actual speeds will probably be lower during peak usage hours. Usually, the speeds stated and the uninterrupted use of services is not guaranteed when using this plan.
Cost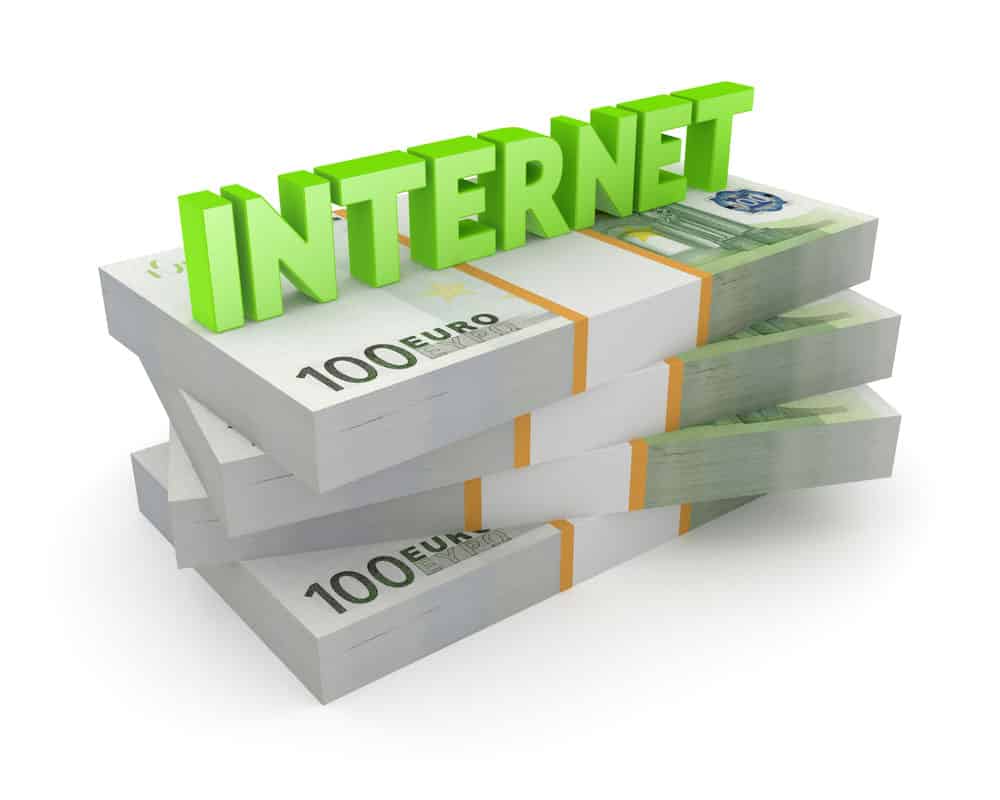 The word internet on a stack of cash
Starlink Residential and Starlink Business have two cost factors: hardware and service costs.
The Starlink Residential service costs $599 for the hardware and $110 monthly for the service.
It also charges priority data charges of $0.25 for every GB of data after exceeding the data cap.
Starlink Business's cost is much steeper than Starlink residential. Customers will pay $2,500 for the hardware kit, while the monthly service begins at $500 for the 1 TB data plan.
Higher data plans have additional costs. It also has priority data charges of $1 for every GB after exceeding the data cap.
Generally, both plans have unlimited data, but the Residential plan misses the extra features that Starlink Business offers.
Starlink Business Kit: What You Get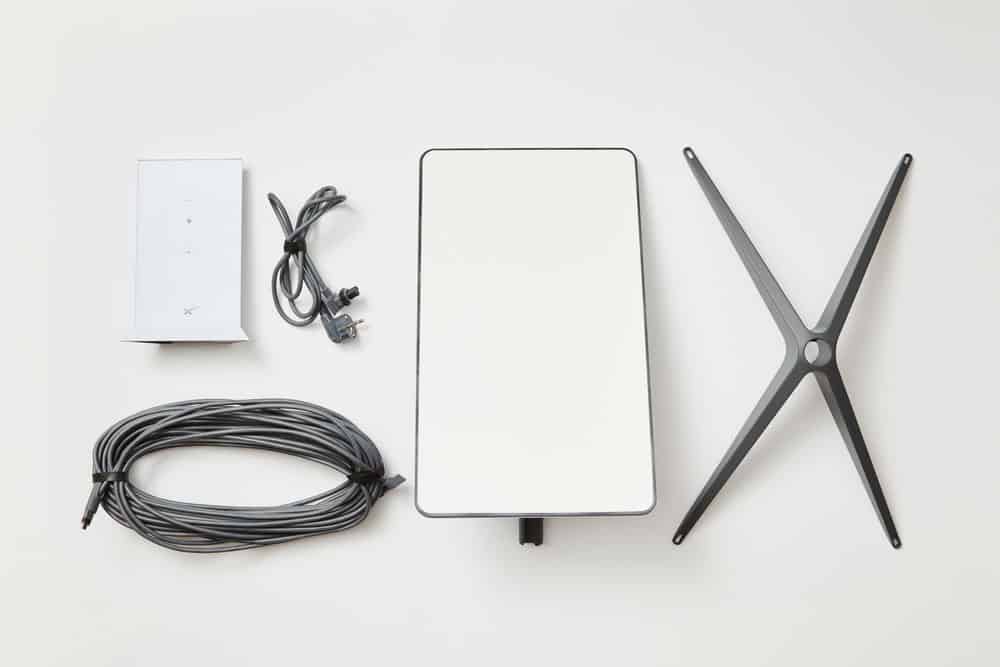 Starlink kit
The Starlink Business Kit comes with the following elements to aid the installation:
Starlink High-Performance Dish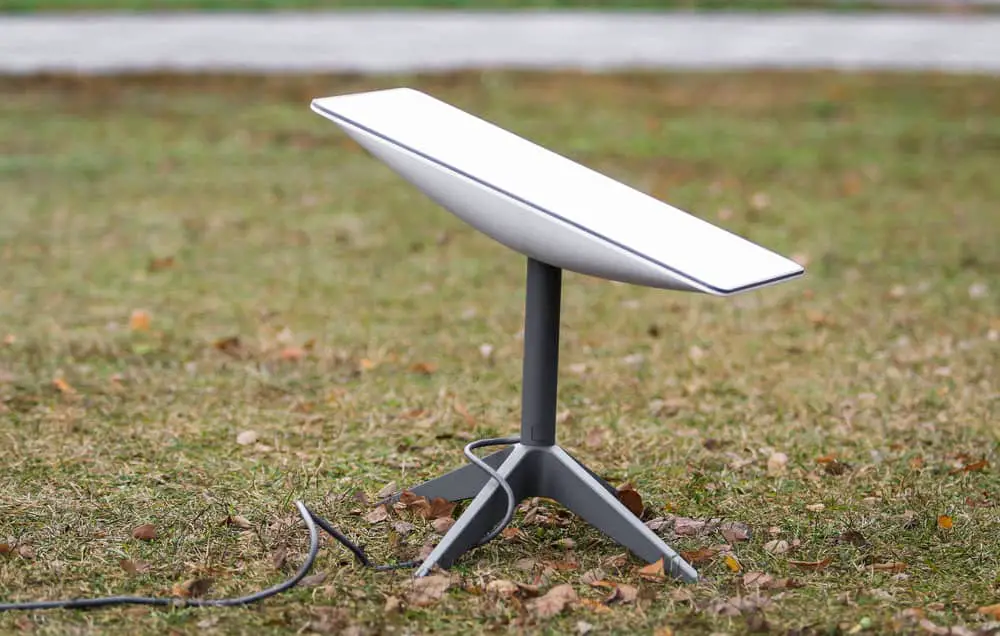 Starlink dish
The Starlink high-performance dish is an intensified variant of the standard Starlink Rectangular dish.
It features a wider field of view, which improves performance and network speeds compared to the regular dish.
The high performance is also attributed to its Electronically Phased Array antennas.
Due to its improved design, the dish connects to more satellite constellations and is more resistant to weather conditions.
Starlink High-Performance Dish has the following specifications:
22" x 20" (57 cm x 51 cm) dish dimensions.
1.3" (3.4 cm) mast diameter.
Operational temperatures are between -22 °F to 122 °F (-30°C to 50°C).
IP56-rated outdoor use.
110-150W average power usage.
Dual Band Wi-Fi 5 support.
3×3 MIMO radio.
16 lbs (17.2 kg) weight (with cable).
26.7" (67.8 cm) in height.
Self-orientation using motors.
It uses Electronic Phased Array antennas.
The Base for the Starlink High-Performance Dish
The Starlink kit has a base that functions as a temporary or a permanent installation mount if you have a suitable mounting site. Its installation is pretty simple as it has pre-drilled holes on the legs.
The base has the following specifications:
22″ x 22″ (56cm x 56cm) base dimension.
4.8" (12.2 cm) height of the legs.
Additional mounting options are available for purchase.
Power Supply
The power supply powers the Starlink Dish for its operation. It has the following specifications:
3 lbs (1.5 Kg) power supply unit.
Dedicated earth terminal for grounding.
11.3″ x 5.2″ x 1.8″ (28.8 cm x 13.3cm x 4.6 cm) power supply unit dimensions.
100–240 VAC 50/60 Hz, 6.3A Max power input.
Starlink Router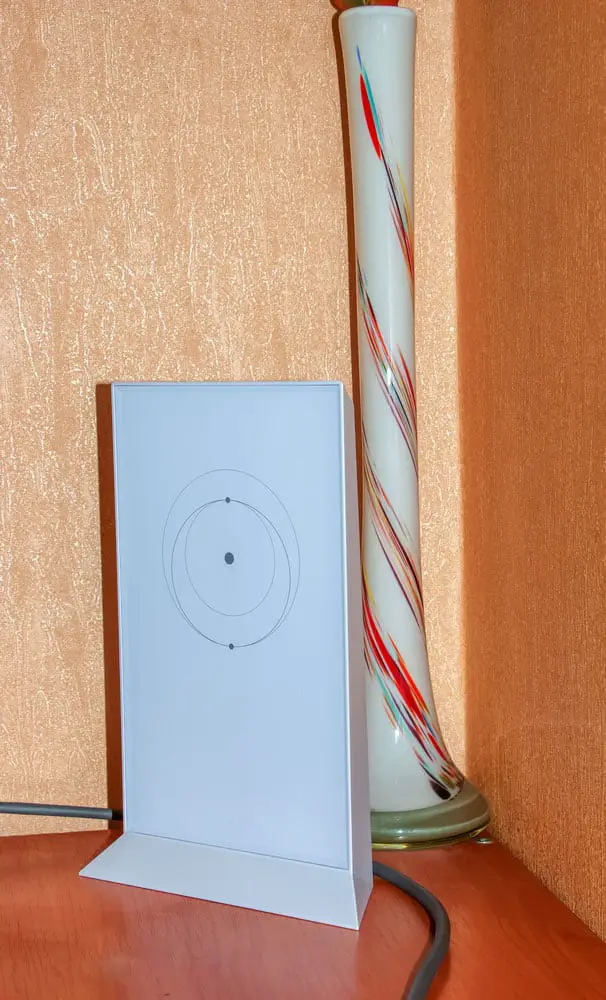 The Starlink router
Starlink uses UTR 211 routers to transmit the internet to connected devices for their plans.
The router has the following specifications:
IEEE 802.11a/b/g/n/ac standards.
3×3 MU-MIMO.
IP54-rated (water resistant) configured for indoor use.
Up to 12 Starlink nodes mesh compatibility.
Wi-Fi 5 Standard generation.
2.4Ghz and 5GHz Dual band.
WPA2 and WPA3 security.
It is compatible with up to 128 devices.
2000 ft (185 m²) maximum coverage.
Cables for Connectivity
The cables are CAT5e variants with four pairs of twisted wires and eight separate conductors to allow for seamless Power Over Ethernet data transmission.
For the Starlink high-performance dish kit, the cables have the following specifications:
75 ft (23 m) detachable Power Over Ethernet (POE) between Starlink and the power supply.
You can purchase additional cable lengths from the shop.
6.5 ft (2m) power cable (Starlink Router).
6.5 ft (2m) power cable (Power Supply).
6.5 ft (2 m) power supply to RJ45 cable (for third-party devices or routers).
6.5 ft (2m) cable between Starlink Router and Power Supply.
The Starlink Business kit includes the following cables:
6 ft (1.8 m) AC cable for power supply.
82 ft (25 m) Starlink cable.
6.5 ft (2 m) Router cable.
16.5 ft (2 m) Ethernet cable.
Which Service Level Should I Pick?
Using either Starlink Residential or Starlink Business service depends on personal preference.
Starlink Residential has a straightforward installation procedure with no equipment required. It is ideal if you want a cheaper internet connection for families and small establishments.
However, for government offices, businesses, or bigger commercial establishments looking for reliable and fast broadband, then Starlink business would fit perfectly.
The service has extra features like unlimited device connectivity and high network security.
Starlink Business Service might be the best fit if these apply to you:
Connection reliability is a key priority for you.
You need the fastest internet speed connection.
You need a public IPv4 address.
You have many users who will be using the network.
You need top-priority support.
Note: The Starlink RV service does not offer business services.
Conclusion
There is a world difference between Starlink and Starlink Premium. According to our verdict, there is no doubt that Starlink Business is bound to perform way better than the Residential Starlink plan.
It gives access to select admin-grade features unavailable for Starlink Residential customers.
Still, it can be utilized by regular users who always require fast internet and don't mind the price point.