About Starlink Maritime, Being at sea is breathtaking. Incorporate fast internet, and you'll unlock pure bliss, thanks to internet service providers like Fleet One, Marlink, and Starlink. But there can only be one satellite winner.
Hence, we present Starlink Maritime.
Starlink Maritime has several benefits, like improved connectivity, increased efficiency, enhanced communication, and improved safety. 
We will expound more on the Internet service in this post for those alluring reasons. Kindly read along to ascertain that it's the best plan for your cruise.
Table of Contents
What is Starlink Maritime?
Starlink Maritime is an internet service recently launched by Starlink in July 2023. It serves sea-faring vessels such as ships, premium yachts, oil rigs, merchant vessels, and boats that need a fast and reliable internet speed.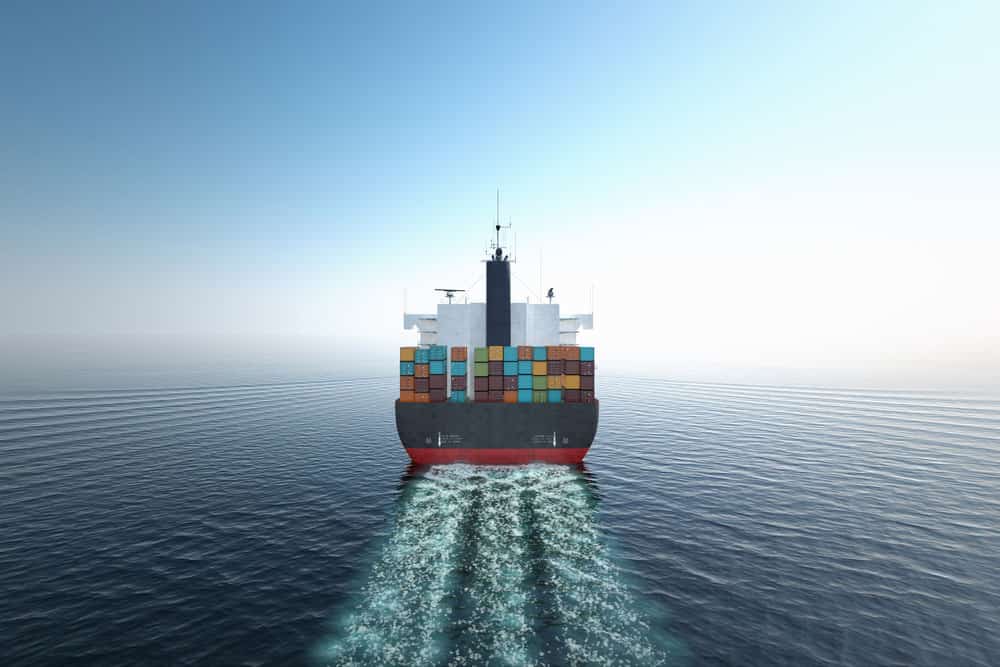 (Cargo ship transportation)
Initially, the internet plan only served high-end luxury applications and commercial operations. Luckily, now it is more accessible to also small businesses and private vessels that require internet coverage while at sea.
Starlink Maritime Specs
Before purchasing a Starlink Maritime, it is best to know the specifications and consider if it suits your needs. Some of the features of the plan include:
Hardware
A Starlink Maritime has either a Flat High-Performance dish or two High-Performance units. If the former isn't in the market, your Maritime orders will deliver the former set.
 The two High-Performance Starlink dishes have pipe adapter mounts. Usually, Starlink Business uses the same dish, only that you'll need two for a Starlink Maritime plan.
The dish can withstand extreme atmospheric conditions ranging from strong winds and heavy rains to extreme heat/cold. Furthermore, it has a small footprint meaning it will occupy less deck space than other service providers.
Also, the $10,000 kit has sturdy mounts that firmly secure the dish in harsh situations.
Internet Speeds and Data Cap
The Starlink Maritime services in the sea aren't so different from any Starlink services on land regarding reliability and speed. 
The company has outdone itself in the network sector. The plan has implemented Starlink constellations, making it impossible to find 200 Mbps speed options at sea.
Its upload speeds range from 10 to 40 Mbps, enabling users to Livestream from their favorite media in high resolution.
The table below summarizes the existing data caps and speeds offered by Maritime.
| | |
| --- | --- |
| Data Cap | 5TB |
| Latency  | 99ms average  |
| Upload speeds | 10-20 Mbps expected speeds40 Mbps |
| Download speeds  | 50-200 Mbps expected speeds350 Mbps peak |
Data Options
If you purchase Starlink Maritime, you will pick 5TB, 1TB, or 50GB Priority Access data for monthly billing. A Priority Access ensures users get the highest priority regarding Starlink services.
Unfortunately, if you are at sea with a surpassed data cap, you won't connect to the internet. However, you can use extra Priority Access data at $2/GB to resolve the issue.
Cost
Starlink Maritime has three known options for Priority Access data as follows;
5TB for $5,000/month
1TB for $1000/month
50GB for $250/month (entry-level plan)
You will need $2,500 to buy the Flat High-Performance hardware, perfect for in-motion use. Other times, you might need up to $10,000, including taxes, shipping, and handling.
With the Maritime plan, you can up-pause or pause the network for seasonal use, similar to a Starlink Roam.
 That means you won't need to pay the recommended monthly fee if you are not at sea continuously.
While the prices seem over the roof, the plan does come in handy when providing services in remote waters. 
At times, companies can choose to settle for a shared service plan. This way, they will save money by allowing many vessels to share one common connection at a split cost.
How to mount a Starlink Maritime
A Starlink Maritime kit usually contains two High-Performance dishes operating in a duplex or a single Flat High Performance, Pipe Adapter, and amounts.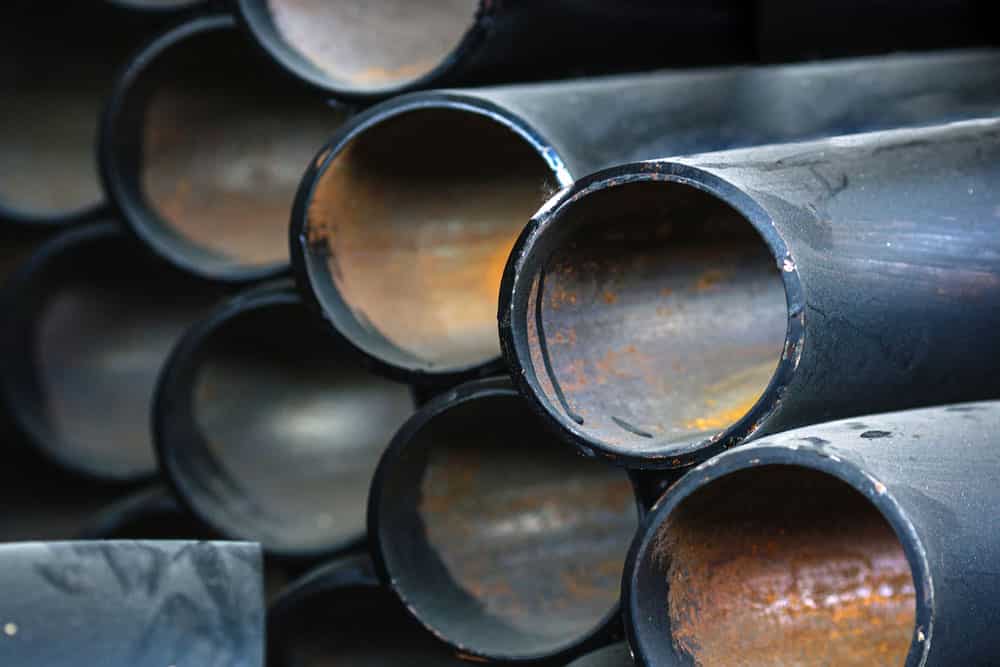 (Pipe adapters)
When installing Starlink, use the Starlink app, which has all the instructions. Moreover, you can also assess the sky via the app to find the perfect spot for the dish.
 Alternatively, check the coverage app t confirm if the location at the sea/ocean support Starlink Maritime.
Starlink Maritime VS Other Maritime Internet Options
Satellite internet at sea has been around for ages. The only problem is the slow nature and set aside for emergencies only.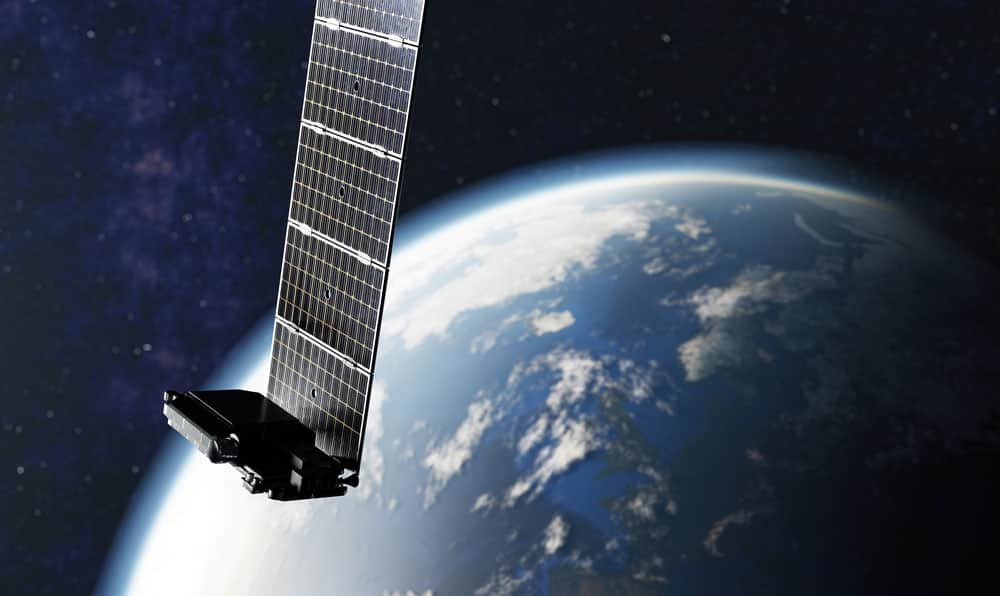 (Internet Starlink Satellite in space near Earth)
With the introduction of Maritime, however, there have been several changes in efficiency and speed, such as the one displayed in the table.
| | | |
| --- | --- | --- |
| Internet Services  | Data Caps | Download Speeds |
| Starlink Maritime  | 5 TB/month  | 350 Mbps |
| Marlink Vsat | 500 MB to 80 GB/month | 6 Mbps |
| Fleet One | 100 MB to 40 GB/month | 150 Kbps |
Briefly, Maritime users will experience excellent 350 Mbps as they would on land. 
The current news is that Starlink's Maritime implementation for SpaceX rocket launching gave them high-quality live coverage.
 Compared to the VSAT with bad footage quality, we can comfortably say Maritime is the best option.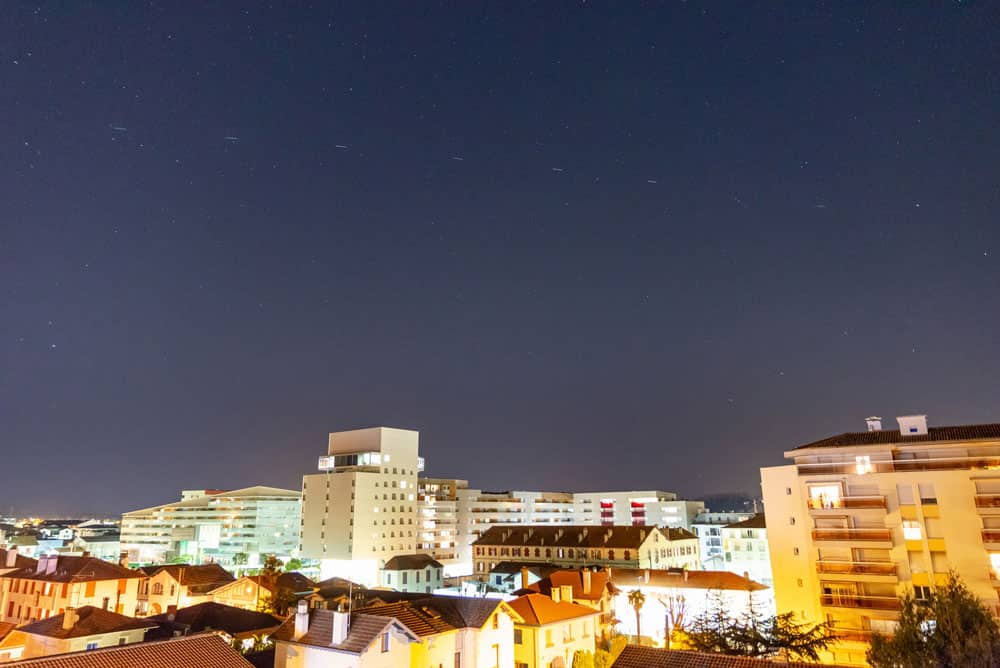 (SpaceX Starlink train of satellites in the night sky)
Another characteristic you may consider is the cost, which is very competitive for both parties.
| | | |
| --- | --- | --- |
| Internet Service | Monthly Fee | Equipment Cost |
| Starlink  | $5,000 | $10,000 |
| Marlink VSAT | $35,000 | $60,000 |
| Fleet One | $765 to $4,569 | $3,000 |
Fleet One network is inarguably affordable, but if you factor in speeds and data cap, it may not be worth your buck. 
Contrarily, Marlink VSAT is pricey and has big hardware, which may not be ideal for most shipowners.
Therefore, it all boils down to an effective network, Starlinks Maritime.
The only downside about Starlink is the coverage. It is not as widely distributed as other internet services. 
On the bright side, Starlink is rolling the plan out internationally in every ocean and sea.
Does Starlink Maritime work all around the globe?
At the moment, Starlink Marimite only boasts about Starlink constellations in every continent. However, it is yet to reach all oceans and seas. 
Its coverage map can guide you on the areas covered by the internet service.
Conclusion
In summary, Starlink Maritime is an internet service by the Starlink company that spans seas and oceans. Its $10,000 kit comes with mounts, two High-performance dishes, etc.
 It is also fast and reliable even though expensive. Ordering a Starlink Maritime is easy. You'll only need to visit the Starlink website to start the process.
For more information on Internet Service Providers, specifically Starlink, you can check out our website.