Starlink for RV vs. home plan, which one has better deals? It is a question you must ask yourself if you consider using the famous Starlink internet. 
While they are both services from the same company, they have varied features, performance, and prices. 
Starlink for RV (Starlink roam) is specifically meant for travelers who use recreational vehicles as their mobile homes. 
On the other hand, Starlink's home or residential plan is for individuals with stationary homes. 
I will explain everything about each plan to help you choose the most suitable for your requirements.
Table of Contents
Starlink for RV vs. Home: Hardware
Starlink RV and home plans have the same equipment, but the former comes with a travel case. The main equipment includes a dish, mounting base, router, and cable. 
However, unlike residential plans, there is no waiting period when ordering the Starlink RV.
 You order today, the shipping starts immediately, and you get your hardware in about two weeks. 
It's vital to note that while Starlink makes mounting accessories for residential plans, there is no mounting hardware for RVs. 
Therefore, you may need to buy Starlink RV mounting hardware from third-party vendors. Additionally, you must purchase a DC power supply elsewhere since Starlink does not provide it. 
If you plan to use your RV Starlink while in transit, purchase the $2500 dish (unavailable for residential). 
This one is a bit expensive, unlike the ordinary dish available for both residential and RV. 
It installs flat on your camper roof to prevent hitting overhead objects. Note that Starlink policy does not allow standard dishes while the camper is in motion.
Starlink hardware
Starlink for RV vs. Home: Features
The main feature differentiating these two is that Starlink RV is for travelers while residential is for home users. 
We have also discussed some of their main characteristics, but what are their unique features?
Waitlist
One of the differentiating features is the waitlist. 
As I mentioned, you will likely be on the waiting list when you try to order Starlink residential. It is because the company has a specified capacity for users in a given area. 
When more and more orders, this capacity continues to rise hence the waitlist. 
On the contrary, Starlink RV has no waitlist, and its equipment orders ships immediately.
Pausing capabilities
When using the RV plan, you can pause your service and reactivate it later. This feature is very advantageous in minimizing costs associated with monthly subscriptions. 
It helps users who may want to park their camper during certain months or use the service occasionally. 
Starlink residential has no service pausing, and you continue paying monthly from when you subscribed. The only other option is to terminate the service permanently.
Global roaming
As a residential plan user, you can only use your service at the registered address. But I had mentioned you could switch to roaming by paying some cash on top of your monthly fee. 
Remember the switching can only apply for a maximum of two billing cycles, after which you should return to your address.
 When it comes to RV plans, there are two roaming services. Regional, where you can use the service in your region for a certain amount of money. 
You can also upgrade your roaming to global, allowing you to use it anywhere. It is perhaps one of the biggest advantageous features of an RV over the home plan.
Transfer
Suppose you need to sell your Starlink equipment to another user. Well, for Starlink residential, transferring their devices to another user is easy.
 You just need to change the name, address, and billing information. This feature is advantageous, especially when buying a cheap used dish. 
However, for Starlink RV, you cannot transfer your hardware to any other person. After you buy it, you are stuck with it forever unless you terminate the service.
Starlink for RV vs. Home: Performance
With both plans having similar equipment, you expect their performance to be the same.
 While this may be the case regarding consistency, it may differ regarding speed and prioritizing.
 For residential, the advertised performance includes download speeds of 20 to 100 Mbps and upload speeds of between 5 and 15 Mbps. 
On the other hand RV plan features a download speed of 5 to 50 Mbps and upload speeds of 2 to 10 Mbps. 
Both plans come with a latency of about 25 to 50 ms. This performance is adequate for light browsing, such as streaming music and emailing.
 It can also manage tasks like playing light games and downloading medium files. 
While both home and RV plans do not have any data caps, there is 1TB of priority data for the home plan. 
Starlink home users can get higher internet speeds during network congestion for a maximum of 1TB monthly.
 If you go beyond the priority access, you start using the basic data, which is slower during peak hours.
 Note that the RV plan is always deprioritized, making the home plan better in performance. 
It is also vital to note that their performance can be affected by factors such as weather and location.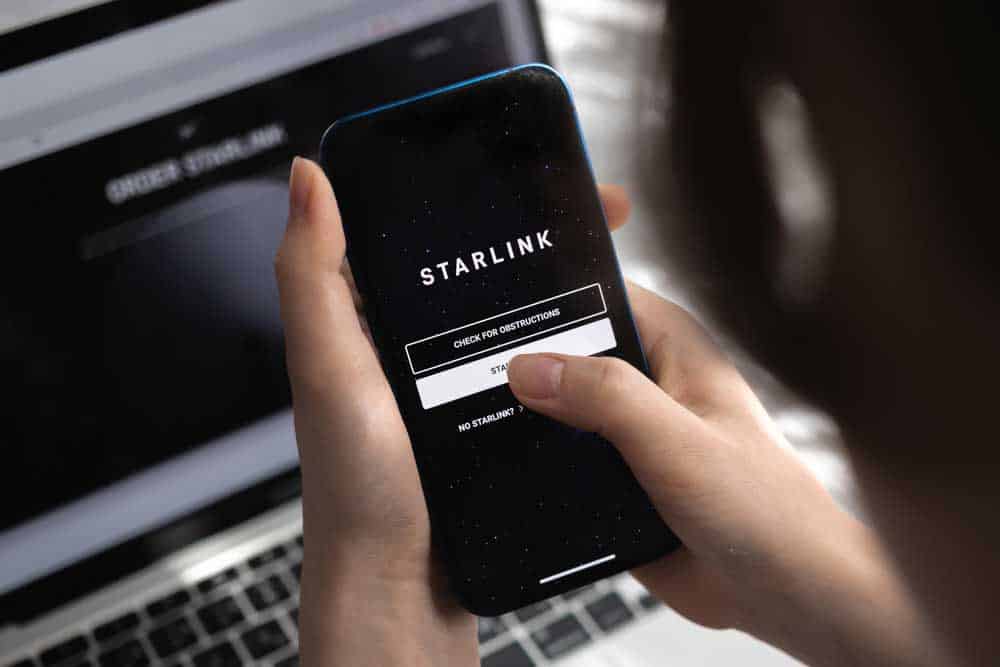 Using Starlink internet on the phone.
Starlink for RV vs. Home: Availability
Availability can be in terms of equipment being readily available and network coverage. When it comes to equipment availability, Starlink for RV is more available.
 As I mentioned, you order your equipment, and they start shipping immediately. 
Whereas in the home plan, the equipment availability is limited, and you get on a waitlist. 
Depending on your location, the waiting time can take several weeks or months.
In terms of coverage, Starlink Home is more available. 
Having been the first plan when Starlink launched its services, the home plan is available in 55 countries globally. 
But the roaming plan started recently and is only available in selected cities in the US. 
Before deciding, you should visit the Starlink website and check its availability in your locality.
Starlink for RV vs. Home: Installation and Set Up
Being the same equipment, you expect the installation to be the same. However, for residential plan installation, it is easier than Starlink RV. 
You just need to mount your dish in a location with a clear sky view.
 Then extend the cable to the router, power it, and wait for a reboot to pick up the satellite signal. 
This mounting process is the same for Starlink RV, but it's not a permanent mount. 
You may need to uninstall your dish and pack it whenever you are in transit. The good news is there are more permanent installation techniques you can use for RV installation.
Starlink dish installation
Starlink for RV vs. Home: Price
Since the RV and residential plan equipment are the same, Starlink charges a one-time fee of $599 for any plan.
 However, this price does not include shipping costs, which will depend on your location.
 Also, as we saw earlier, as a Starlink RV user, you can order a dish optimized for installation on RVs in motion. This dish goes for $ 2500, but the plan is not available for home plans.
Regarding monthly subscriptions, Starlink RV is a bit expensive, with its plan costing $135 for regional roam.
 Its global roam even more expensive, going at a price of about $200 per month. 
You are only supposed to pay $110 per month for a home plan. However, you can enable portability mode with your home plan for an extra $25 monthly. 
When you enable this portability feature, you can use your residential Starlink as a roaming plan anywhere for at most two billing cycles.
 Beyond this period, you must return to your original address lest you risk permanent address migration.
Starlink for RV vs. Home: Which Service is Right for You
Despite both services being from the same company, one suits you. All you need is to consider the above characteristics and features to figure out what you need. 
For example, the RV plan is more suitable if you intend to use your internet when on the road. It is optimized for use anywhere, and you can deactivate and reactivate it anytime. 
If you want to use your internet at home, you might want to consider the residential plan. Here, you will enjoy prioritized speeds necessary for many online tasks.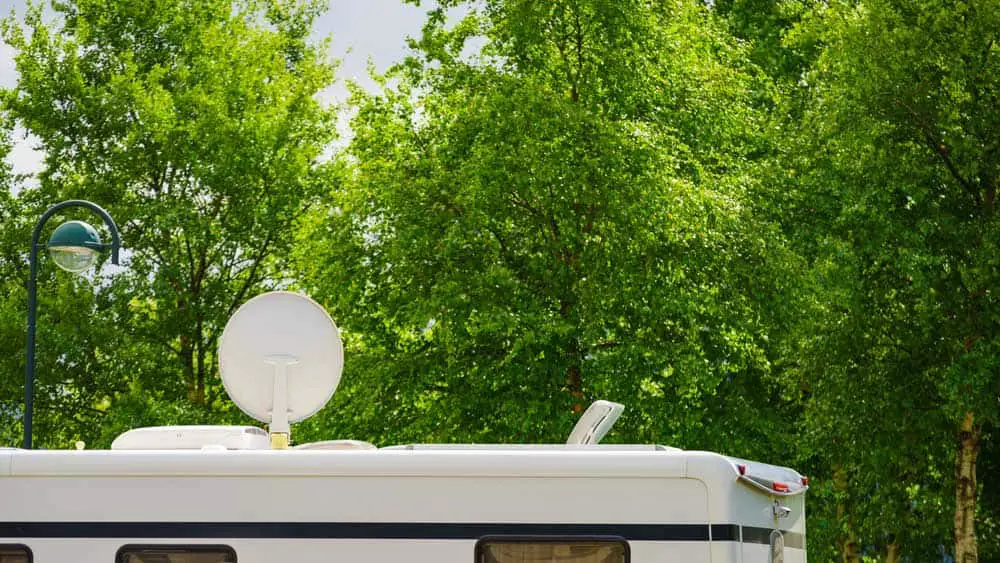 Camper with a satellite dish on the roof
Can I Switch Starlink RV for Residential
Previously, changing your roam to residential was a one-way service. You could only change to home plans and never return to Starlink RV. 
The good news is that you can change any plan, including Starlink RV, to residential and vice versa.
 When going to a higher price category, the change is effected immediately. However, the change takes a month when the price goes down since Starlink does not offer refunds. 
Note that Starlink has not added these details to their website. But users continue to experience the change, and the official communication will come soon.
Conclusion
Now I'm sure you understand how Starlink for RV vs. Home compares. Both have unique characteristics optimized for usage in different scenarios. 
They also have varied advantages and disadvantages. However, you can only experience these shortcomings using the plans interchangeably.
 But if you use each for its intended purpose, you can enjoy high-quality and uninterrupted service.