About Starlink Router Reset, While Starlink is a state-of-the-art internet service, it may experience slow speed and constant disconnections.
These problems can be very annoying, especially if you want to stream your favorite tv show or play an online game.
But can a simple Starlink router reset solve most of these issues? 
That's why we will discuss factory resetting your Starlink router to help you solve slow internet and disconnection issues.
Table of Contents
Why Do You Need To Factory Reset Router?
Factory setting can be a vital way to solve several network issues in your router.
For example, if your internet experiences slow connections, factory resetting can be a way to clear bugs and speed them up.
It can also be a method to solve disconnection issues since it restores optimal settings on your device.
Additionally, it is a recommended optimization procedure when you relocate to a new place.
Resetting your router when you move to a new place, establish a new connection with the nearby satellites for optimal performance. 
Furthermore, you may lack more use for your Starlink devices and decide to sell them to another user.
In this instance, you or your buyer must reset their device to capture their information.
Remember that factory resetting erases all the data in your router, including passwords and connected devices.
How To Factory Reset Starlink Router
As we have already established, factory resetting erases your customized settings apart from deleting configuration errors.
Therefore, writing your preferred settings on paper before a reset would be better.
Also, note that factory resetting may be a time-consuming process.
If you have an urgent task, I suggest you use an alternative internet, such as mobile tethering, while you reset your router.
However, if you have decided to reset your device, follow the below methods.
Using The Reset Button
The reset button is the easiest way to bring your router to its factory setting. Follow the below steps to accomplish this:
Connect your router to a socket and power it on
Look for its reset button, which is usually at the back or bottom, depending on its make
Using a thin object like a paperclip, press the reset button for about 10 seconds
Once the light goes off and back on, you have achieved your factory reset endeavor
Now you can log into your device's interface and complete your desired custom settings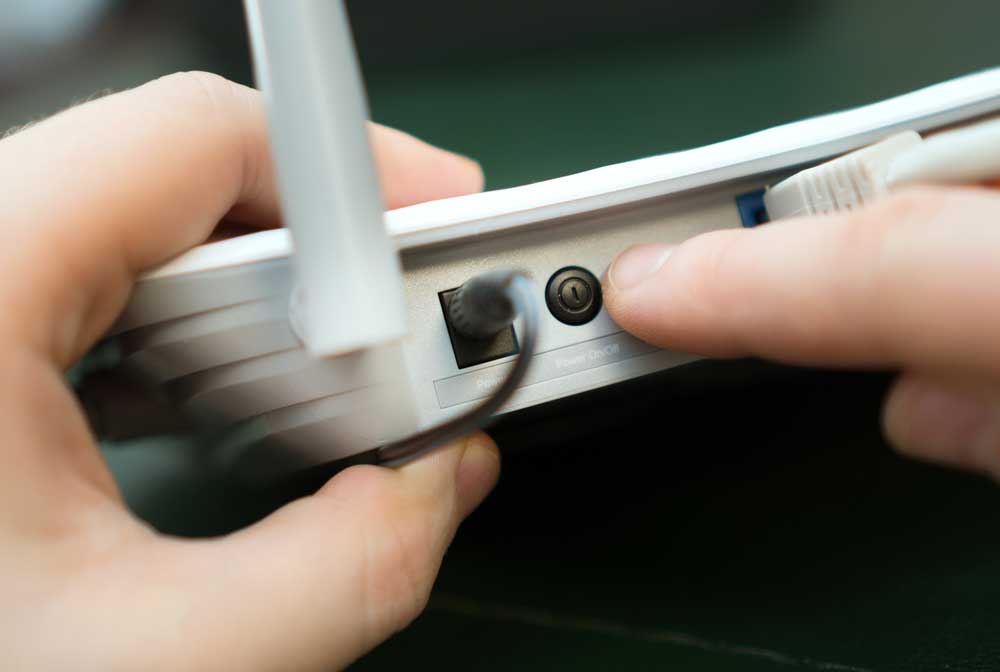 Pressing power button
Using The Web-Based Interface
You need to log in to your router's web-based interface for this method.
Therefore, you will require your current password and login details.
Use the following steps for a complete factory reset using a web-based interface:
Connect your router to a power source and power it on
Open your computer and connect it to your router's established network
The next step is to open your browser and run code 192.168.1.1 on the search bar. Running this code will open your router's login page.
Use your login credentials (usually a name and password) to access the device's interface.
Once on the interface, locate the settings and scroll to find factory reset.
Click the reset link and confirm you want to factory reset your device.
Your router will embark on its factory reset when you confirm your want to reset.
You will need the originally provided login credentials to reaccess the interface and configure your preferred settings.
How To Factory Reset a Circular Starlink Dish
Starlink has included a dedicated reset button at the back of your circular dish router for straightforward resetting.
If you own this type of dish, follow the following process to reset:
Connect your circular Starlink dish router to the power supply and power it on
Locate the reset button located at the bottom of the router
Press the button for about 10 seconds until the blue light appears. The blue light shows that the factory reset process has commenced.
Wait until a solid white light appears, signifying rebooting completion and network availability.
On your computer, check the list of available WiFi networks and connect to the one named STARLINK or STINKY.
Check the default network password at the back of your router, enter it when prompted, and connect.
When prompted to change your network ID and password, you can do so by entering your preferred credentials.
Starlink circular dish
How To Factory Reset a Rectangular Starlink Dish
The factory reset button is a convenient way to clear system bugs and errors.
The problem is the rectangular dish does not come with a dedicated reset button.
So what should you do to factory reset it?
Well, here are two main methods you can use:
Power cycle method
Power cycling refers to the process of charging and draining a device continuously.
It is an excellent method for solving hardware issues and clearing system bugs.
For this method, you will need access to the router's power supply and use the following process:
Locate the socket where you connect your router to the power
While still powered on, unplug the cable without switching off the outlet
Wait for about 3 seconds and re-plug it into the socket
Repeat the plugging and unplugging three times, giving five seconds between the cycles.
This process sets your device to its factory settings
After the final insertion, switch your router on and wait about five minutes for a reboot.
You can now use your computer to identify the Starlink network and enter your default password as it appears on your device.
When prompted, change the device name and password and access the internet.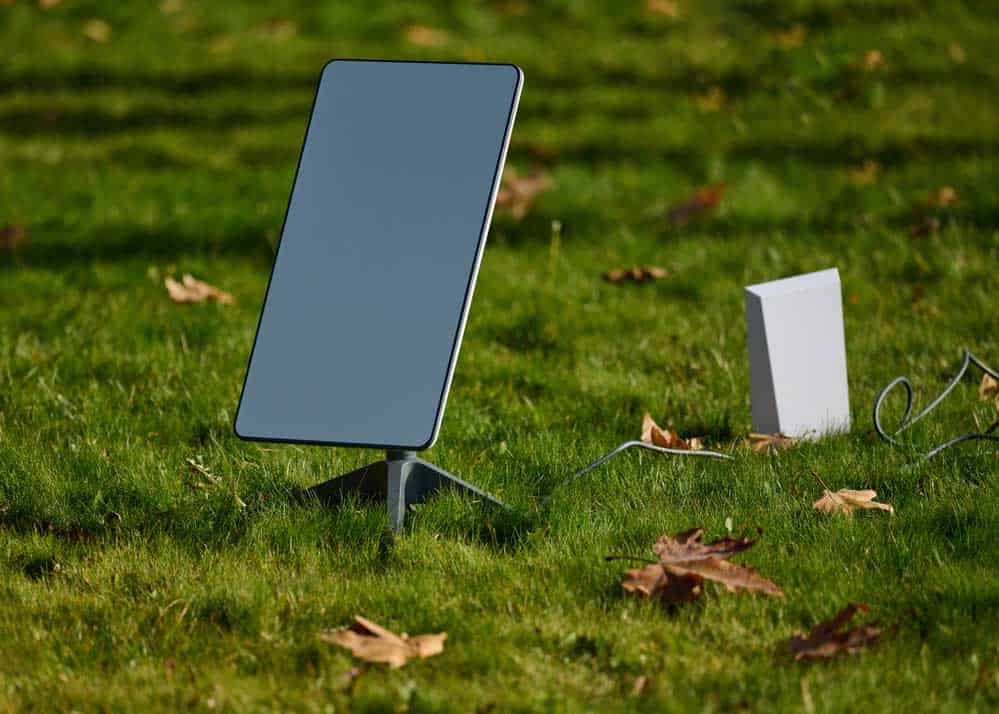 Starlink Rectangular dish
Using the app
The Starlink app version 2022.08.0 and above features a button that you can use to reset your router to its factory settings.
If you are using such an app, you can use the following steps to reset your rectangular dish router:
Plug and switch on your router
Open the app and ensure it is connected to your Starlink wifi and it is online.
Open the settings and scroll down to factory settings
Click on the factory settings to wipe all the settings, passwords, and other data.
After the factory reset, you must use the default username and password to reset your details.
How To Factory Reset a Starlink Mesh Node
Do you have a mesh node connected to your wifi?
You might consider resetting it for optimal internet performance on all your devices.
But the problem is the Starlink app does not provide a way to accomplish this reset.
So what do you do? You use the power cycle method.
Here are vital steps to follow:
Locate the power supply of your mesh node
Unplug it from the power source without switching off the power 
Plug it back in and repeat the process of plugging and unplugging six times. Ensure a gap of about three seconds between any plugging and unplugging.
After unplugging for the sixth time, let the mesh node rest for about three minutes before replugging and switching it on.
Once it has rebooted, connect it to the Starlink router when prompted
After you connect it, log in to your Starlink app and wait for the prompt to pair the mesh node. (Before opening the app, ensure your computer is connected to the primary wifi network and not the mesh node network)
How Do I Reset My Starlink Router Password
Forgetting this password may be devastating, especially when you can't access your account.
You can reset your password and continue enjoying the service when this happens. Here is how to reset your router password.
Using an internet-enabled device, visit the Starlink home page
On the top right corner, click the three bars and scroll to the sign-in link
Click this link and choose the locked-out option to redirect you to a password reset page
When you access this page, enter your member email address and click enter
Check your email for a link to reset the password
Follow this link, and it will send you another email with a password
Log in to the website using your email and the sent password
After login successfully, you can access your account to reset a new password.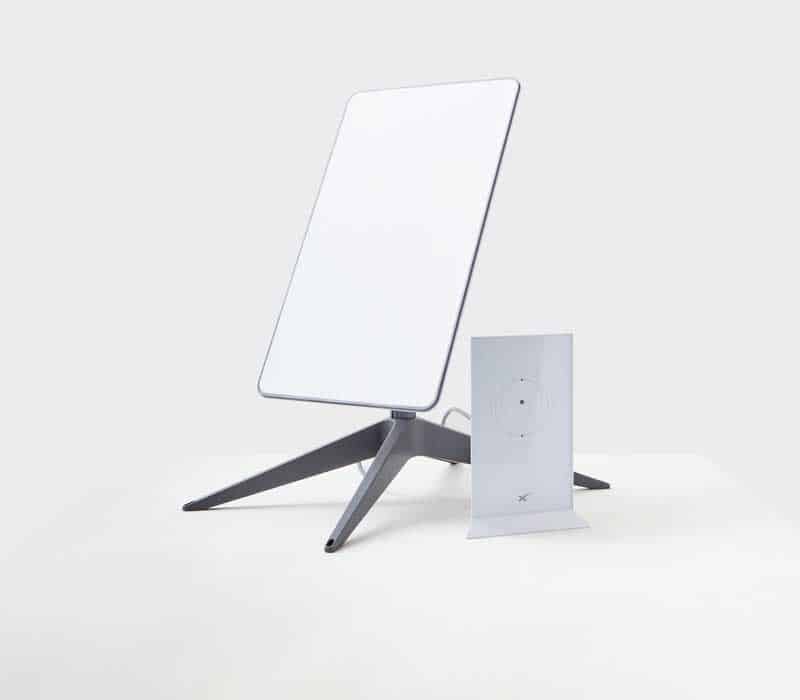 Starlink router
Conclusion
As we have seen, a Starlink router factory reset is necessary to solve network issues.
It clears any preset data, which includes passwords and configurations.
While doing so, it also clears system bugs, thus establishing a better internet connection with the nearest constellation.
It is, therefore, important to know how to reset your router occasionally.
If you encounter any problem while resetting, I advise you to contact customer care for support.