About Google Nest Vs. Ecobee, The smart home technology supremacy battle, recently reached a new realm to encompass even smart thermostats. 
On one corner, enter Google Nest, an innovative device from tech Giants Google designed to integrate with various household devices. 
On the other hand, Ecobee is a feature-rich product that challenges Nest by pushing the boundaries of what a smart thermostat can achieve.
 Join me as we dissect Google Nest vs. Ecobee rivalry, discussing their similarities and differences to see which product suits your needs.
Table of Contents
Google Nest Vs. Ecobee: Definition
Nest is a Google brand name for smart home devices such as smoke detectors, thermostats, speakers, Nest Mini, etc. 
All these products work together in the Nest Ecosystem, and you can control them using the Google Home app on your smartphone. 
The company launched its first thermostat in 2011, Nest Learning Thermostat. 
From there, it has launched several other products with WiFi, machine-learning capabilities, and voice commands.
On the other hand, Ecobee is a Canadian smart home devices company based in Toronto. 
The company specializes in residential and commercial thermostats and their related products hence being a stiff rival for Google Nest. 
It launched its first smart thermostat in 2009 and has become one of the leading WiFi-enabled thermostat distributors.
 Its latest Ecobee4 thermostat currently comes with state-of-the-art features such as voice control and remote sensing capabilities.
Ecobee thermostat
Google Nest Vs. Ecobee Similarities
With both devices being smart thermostats, they have some similarities, as I describe Below:
Basic features
Although the smart thermostats from Nest and Ecobee are unique in their design, they typically share the same basic features. 
Their main features include voice command, smartphone app control, manual customization and scheduling, and WiFi connectivity.
Installation
Both devices come with detailed and simple-to-follow installation instructions. 
As a DIY enthusiast, it should take you around 30 minutes to install your smart thermostat. 
However, you may require a professional for commercial and retail electrical connections in a complex HVAC system.
HAVC Compatibility
Both Google Nest and Ecobee are compatible with basic HAVC systems such as air conditioners, boilers, heaters, and furnaces. 
You can also get some advanced models compatible with humidifiers, ventilators, and dehumidifiers. 
Price
While the prices of both products may vary slightly, they share the same price range, which is more expensive than other brands. 
For example, the difference between the cheapest Nest version and Ecobee is only $20. On the other hand, both their priciest models retail at $250.
 However, some unique devices from both sides may lack a direct competitor.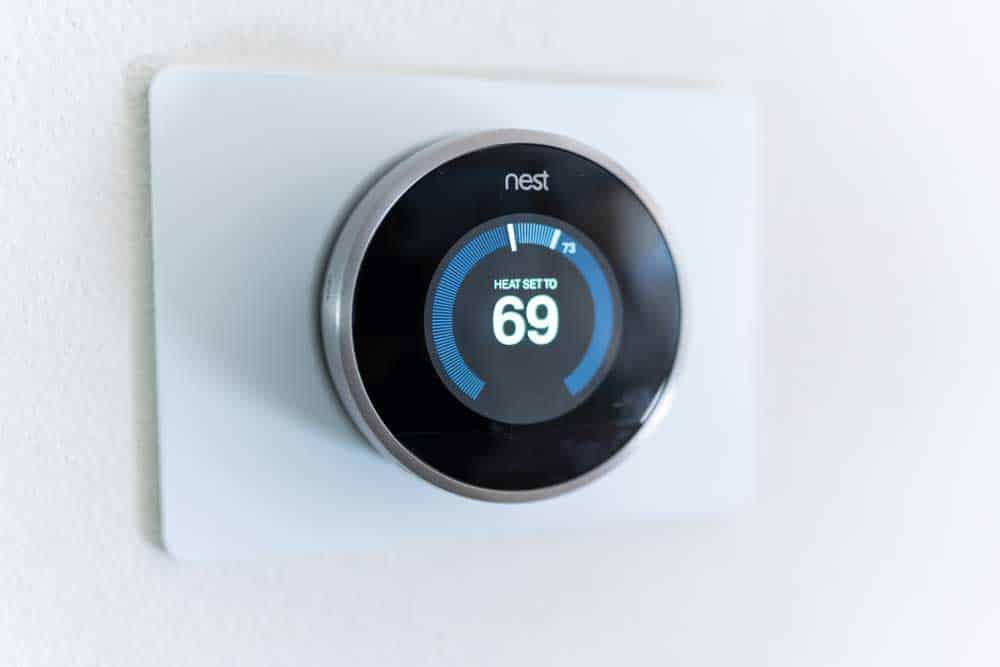 Nest thermostat
Google Nest Vs. Ecobee: Differences
Although both devices go beyond traditional temperature control to emphasize comfort, convenience, and energy efficiency, they have the following differences:
Design
Google Nest comes with an aesthetically pleasing small round thermostat. 
The device also features several expressive colors that you can choose to suit your home decor.
On the other hand, the Ecobee devices feature an attractive small square-like shape with rounded edges.
It then comes in a signature mixture of black and white color. While this combination and design blend well with most home decor, it's way below Nest's design and color choices.
On-device Controls
While both devices have easy-to-learn on-device control, the Ecobee brand edges Google Nest in this department. 
All Ecobee smart thermostats have a touchscreen with several controls, nearly the same as those on their app. 
Conversely, the Nest smart thermostat features a rotating ring or a touch bar on the device's side. 
Scheduling Assistance
The Nest Learning Thermostat uses complex machine learning algorithms to learn and anticipate your requirements. 
In this regard, it can automatically adjust to your needs depending on your habits while still regulating energy consumption. 
In contrast, Ecobee devices do not have such capabilities. However, its eco+ models can track your usage and suggest changes you can implement. 
While Nest edges Ecobee in this feature, you can schedule any to preheat or precool your home. 
This capability can help you use the device when electricity is cheaper and avoid usage when it is expensive.
Energy Tracking
Energy tracking is a feature on both devices that can help you save on electricity costs. 
Ecobee features long-term energy tracking capabilities providing 18 months of history to help you track your energy costs. 
On the other hand, Nest's energy history is short-term for just 10 days of tracking but with a monthly Nest Home Report.
Google Nest Vs. Ecobee: Smart home compatibility
Google Nest offers the ability to integrate its Nest products (WiFi, cameras, speakers, smoke detectors, and others)  seamlessly. 
You can then control these apps using the Google Assistant and the Google Home app available for smartphones. 
However, these devices can only work on the Google Nest ecosystem and are incompatible with other systems, such as Apple HomeKit. 
Therefore, Ecobee wins the compatibility battle since it can integrate with many other systems. 
It can also work with Alexa to help you use voice commands to control your device without extra speakers. 
Additionally, it features in build Siri controls for use when you have Apple Home Pods.
Google Nest Vs. Ecobee: Subscription
While both devices offer a subscription plan to supplement their usage, it is not necessary for their functionality.
 In the case of Ecobee, there are two subscription plans, one for home security and the other for air filter delivery. 
The Home security subscription costs $7 to 1$4 per month and offers video storage from home monitoring cameras. 
On the other hand, the air filter delivery systems tell you when to change your air filters, thus maintaining your HAVC.
Conversely, Google Nest offers optional Nest Renew Premium to purchase renewable energy credits.
Google Nest Vs. Ecobee: Which One is Better
Having tested and reviewed both products, I can confirm that Nest is the better option. 
While the comparison contest was close, Nest is simple to use, even for people without HAVC know-how.
 It has an excellent design and several colors that work well with your decor.
 However, Ecobee has admirable features like touchscreen controls, energy usage reports, and excellent compatibility.
Adjusting nest thermostat
Conclusion
While the two systems brands are an excellent option, your choice depends on your choice and preference. 
However, considers factors such as pricing, energy saving, and compatibility with your existing systems. 
Consider ease of installation and customization before buying any thermostat.